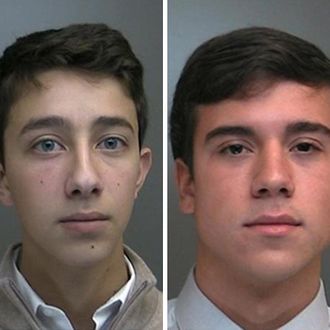 The alleged high-school hackers: Alex Mosquera, Erick Vaysman, and the so-called "mastermind," Daniel Soares.
Photo: Suffolk County Police Dept.
Sometimes studying hard and trying your best just isn't enough. For those instances, there's the option of hacking into your high-school computer system and upping your grades. It is probably not the wisest strategy, however, as three Long Island teens could probably tell you after being arrested for allegedly accessing their high-school network to fiddle with their report cards and change the class schedules of more than 300 students.
Three 17-year-olds have been arrested and charged in the breach: Daniel Soares, Erick Vaysman, and Alex Mosquera. According to Suffolk County Police, student and, predictably, computer-science-club member Daniel Soares was the "mastermind" of the operation. Soares apparently sneaked into an unlocked classroom after hours in May, though the school was still open for extracurriculars. He installed a device that tracks a computer's keystrokes, allowing him to tap into the usernames and passwords of teachers and administrators. The police allege that Soares did this again in June. 
With that information, Soares hiked up at least four of his grades — apparently for classes in physics, history, and economics — on what sounded like an already pretty decent report card, as evidenced from his need to turn a 94 percent into "a hundred perfect score," say police. Soares is accused of changing a grade for Erick Vaysman, one of his alleged accomplices. The other student accused in the hack, Alex Mosquera, reportedly asked Soares to find out the schedule of one student, and Soares did him one better and altered the schedules for more than 300 students.
High-school administrators realized over the summer that their systems had been compromised and alerted police in July. The investigation led to Soares in early September, where police issued a search warrant for Soares's parents' home. After the visit from police — where his hacking device filled with passwords was reportedly uncovered — Soares disappeared and was missing for about a week. His parents filed a missing-persons report, but the teen Facebooked his family to let them know he was fine and eventually came home.
All three teenagers turned themselves in voluntarily for their arraignment Tuesday. Soares has been charged with burglary, computer tampering, and identity theft and could face up to 11 years in prison. The other two face lesser charges — computer tampering for Vaysman, computer trespass for Mosquera — and both got slapped with misdemeanors for soliciting Soares to do some of their bidding. Each faces up to four years in prison. All have pleaded not guilty and are due back in court on January 19, so they still have some time to get their college applications in. 
The hackers' classmates confirmed what most people probably already assumed — that the three teens were freaked out about not getting into a good school. "He seemed like a normal kid," one student told the Daily News. "He must have been scared about college and wanted good grades. They are not troublemakers."
Commack High School didn't say whether the boys had been suspended or expelled, but did assure everyone that the school district fixed all of the suspects' tampering of grades and schedules.
The school is reviewing its security, but if the CIA isn't even safe from teen hackers, there's probably nothing that's going to stop a bunch of computer-savvy overachievers.