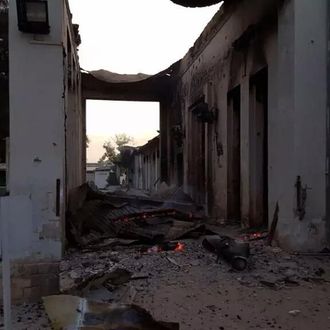 Photo: Médecins Sans Frontières/Twitter
Five days after the U.S. airstrike that killed 19 staff and patients at the Doctors Without Borders medical facility in Kunduz, the group announced today that it still doesn't know the fates of 24 other staff members, composed of doctors and administrative personnel, along with nine patients. 
At a press conference in Kabul, the organization's spokesperson, Guilhem Molinie, told reporters that with no way to access the burning compound and with little manpower to comb the wreckage, the situation is bleak. "At the moment we are trying to find trace of any of our staff but also any of our patients," he said. 
There were 105 patients inside the hospital at the time of the October 3 airstrike. Dr. Joanne Liu, speaking to reporters yesterday, detailed a gruesome chain of events in the moments after the bombing. "Our colleagues had to operate on each other," she said. "One of our doctors died on an improvised operating table — an office desk — while his colleagues tried to save his life." Footage obtained by the BBC reveals a cratered and smoldering compound. 
The airstrike came as Afghan forces attempted to retake Kunduz, which fell to the Taliban last week. U.S. officials initially claimed the strike was to support U.S. personnel under fire, but later revised that statement saying it was Afghan troops who requested air support, and then suggested that proper procedures were not followed. Still, representatives of MSF have been adamant that the hospital's GPS coordinates were shared with all NATO forces in the region. Vice News reports that over the course of a two-day battle 171 patients were treated, nearly a third in critical condition. 
A Taliban spokesperson told Reuters that none of their fighting men were treated at the hospital.
Locals from the surrounding villages have yet to be accounted for.
Nicolas Metri, with the International Red Cross in Kabul, confirmed to Vice News that the organization evacuated all of MSF's international staff from Kunduz by plane on Saturday afternoon. 
Over the course of 2014, the hospital treated 22,193 people and performed 5,962 surgeries, according to MSF.