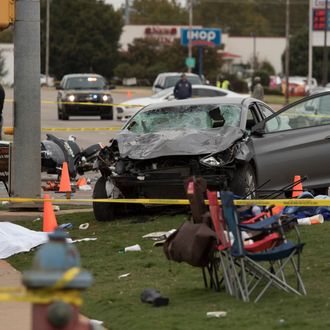 Photo: J Pat Carter/Getty Images
Police in Stillwater, Oklahoma, have now identified three of the four people killed on Saturday morning when 25-year-old Adacia Chambers, since arrested for a DUI, drove her Hyundai sedan into a crowd of spectators watching Oklahoma State University's annual homecoming parade. Forty-seven people were injured in the crash, including five who remained in critical condition as of Sunday morning, according to the Associated Press. Of those killed, three adults, 23-year-old Nakita Prabhakar and 65-year-olds Bonnie Jean Stone and Marvin Lyle Stone died at the scene, while a still-unnamed 2-year-old boy died after being transported to a nearby children's hospital.
According to police, Chambers, a Stillwater resident, reportedly crashed through several barriers before hitting a parked police motorcycle and careening into the crowd, sending those in the car's path flying through the air. According the CNN, 11 of those injured were under the age of 13. CNN also reports that one of the women who was killed pushed 7-year-old Madison Atwell out of the way at the last moment, saving her life. Atwell's aunt called the woman the girl's guardian angel. Chambers, whose blood is being tested to confirm whether she was impaired by drugs or alcohol, was arrested following the accident, and currently remains in jail. At present, police are treating the incident as a homicide investigation.
Oklahoma State University officials decided to still hold the scheduled homecoming football game, which was then played a few hours after the accident. Many of the attendees had to walk by the accident scene to get to the stadium. A moment of silence was observed before the game for the victims of the crash, as OSU players knelt on the field to pray.