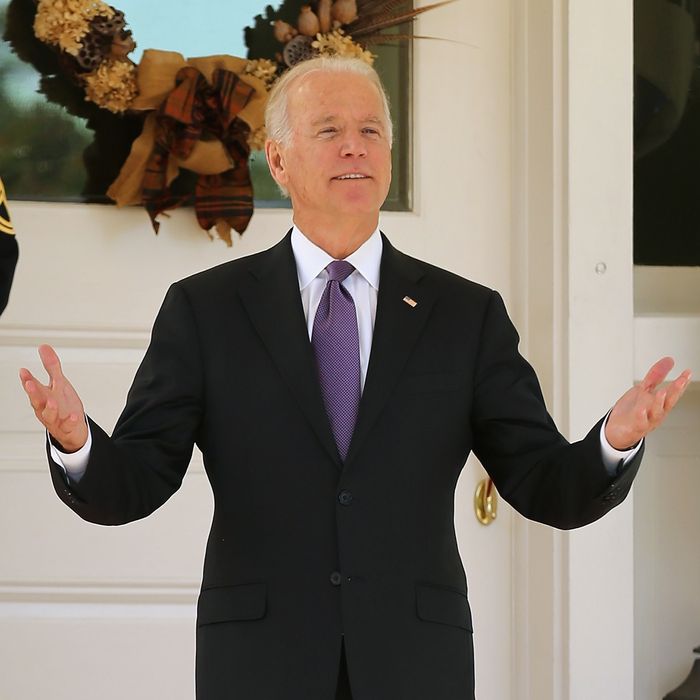 Joe Biden reacts to reporters' questions about him running for president while he waits for the arrival of President Park Geun-hye of South Korea at the Naval Observatory on October 15, 2015 in Washington, DC.
Photo: Chip Somodevilla/Getty Images
Following the first Democratic debate, many political analysts declared it was too late for Joe Biden to enter the 2016 race, but it appears the VP isn't listening. Despite claims that he has little chance of beating a reinvigorated Hillary Clinton, Biden recently teased reporters who asked for his decision, his staff met with the DNC to learn the ins and outs of running for president, and a source let it be known that the International Association of Firefighters, a powerful union, will back him if he runs.
On Thursday night, we got one of the biggest clues yet about Biden's political future. The Associated Press has obtained an email from former Delaware senator Ted Kaufman, one of Biden's closest advisers, that lays out what his potential campaign would look like. Ostensibly it was meant for the eyes of former Biden staffers, but as Gawker notes, why would Biden's friend send their associates an email with lines like these:
>
It's not news to people who've spent years working closely with Biden that he'd run an optimistic and unscripted "campaign from the heart."
Is it possible that Kaufman is just an overzealous Biden supporter trying to keep hope alive for his 2016 bid? Sure. But Kaufman, who served as Biden's chief of staff before he replaced the newly elected VP in the Senate, is also one of three advisers who's spent the past few months huddling with Biden about whether he should run. A source tells the AP that the group met at Biden's home to discuss his potential campaign just last night.
Time is running out for Biden to make a decision. The first state primary filing deadline is on November 6, and the longer he deliberates, the more potential delegates he loses; if he isn't on state ballots by mid-January he'll essentially have no path to victory in the Democratic primary.
CNN reports that this week Biden himself called Democratic strategists in Iowa, New Hampshire, and South Carolina to ask questions about how he can enter the race. Sources say that on the calls Biden suggested he wants to run and doesn't care about complicating the Democratic primary.