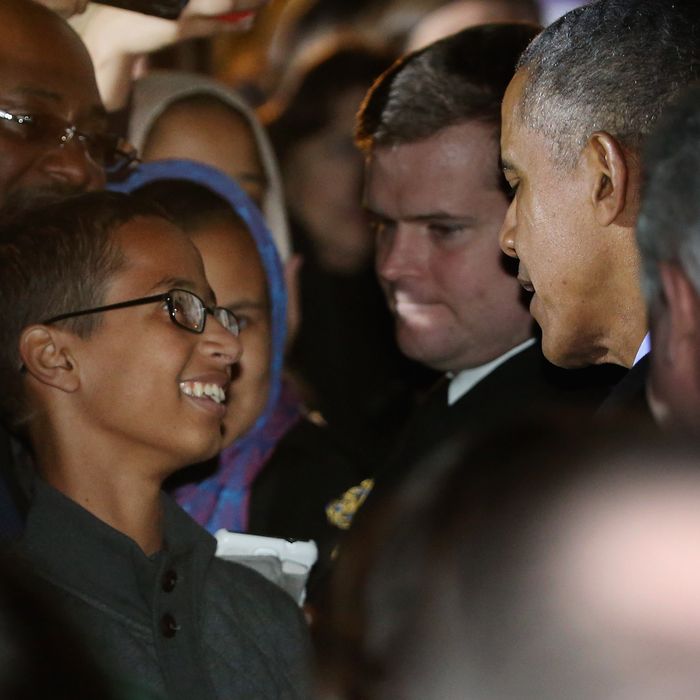 Obama meets Ahmed Mohamed during the second Astronomy Night on the South Lawn of the White House on October 19, 2015.
Photo: Chip Somodevilla/Getty Images
Though White House Press Secretary Josh Earnest suggested that President Obama wouldn't have time for a meeting, on Monday night the president briefly chatted with 14-year-old Ahmed Mohamed during an "Astronomy Night" for kids — though the teen was too busy to pick up the "cool clock" that landed him an invitation to the White House.
Being arrested after his science project was mistaken for a bomb earned Mohamed a slew of invitations, and in recent weeks he's visited various companies and institutions, including Google and Facebook. Last week Mohamed, who was born in Sudan, generated even more controversy when he met with Sudanese president Omar Hassan al-Bashir in Khartoum, though the leader is wanted by the International Criminal Court for alleged genocide and war crimes.
President Obama did not reference the clock incident in his address to 300 young science enthusiasts on the South Lawn, but he was spotted with the ninth grader as he moved through the crowd. The boy, who was wearing a NASA shirt when he was arrested, also posed for pictures with American astronauts Alvin Drew and John Grunsfeld. 
Earlier, Mohamed said he identifies with Obama's unconventional childhood, and hoped to talk to the first family about his difficulties growing up in the U.S."I'm going to tell them my message about how hard it is growing up in America, because I came to America when I was really young," he said. "But on the way, you do make friends and they help you along the journey. You meet people that are just like you, from where you come from, or completely different places."