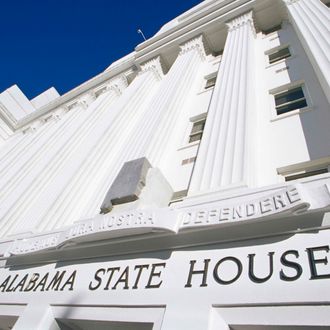 Photo: Richard Cummins/© Corbis. All Rights Reserved.
When Alabama announced at the beginning of October that it was shutting down 31 driver's license offices throughout the state, many Democrats and voting-rights advocates suspected the state of engaging in voter suppression through other means. Many of the offices are in poor, rural, majority-black counties, and since Alabama began requiring ID to vote as of last year, opponents said the move would effectively disenfranchise many residents of these counties.
State officials defended the decision at the time, saying it was a necessary response to $11 million in budget cuts and would not make it harder for rural Alabamans to vote, but the critics have clearly gotten through: On Friday, Alabama governor Robert Bentley announced that the facilities would not close completely, but would remain open one day a month.
The partial reversal did not stop Democratic presidential candidate Hillary Clinton from taking a swipe at Bentley and the state's Republican-dominated legislature over what she called "a blast from the Jim Crow past."
Speaking at the convention of the Alabama Democratic Conference on Saturday, Clinton also addressed the voting-rights debate at the national level, attacking several of her Republican rivals for their stances on voting rights. "What part of democracy are these Republicans so afraid of?" she asked.
Some Alabama lawmakers have also questioned the decision by the Alabama Law Enforcement Agency to shutter the licensing offices, which they say will do little to close the agency's budget gap. Rep. Terri Sewell, the only Democrat and only black member of Alabama's delegation to the U.S. Congress, has called for an investigation by the Justice Department.
Republicans claim that voter ID laws are meant to address voter fraud, but Democrats see them as an effort to suppress turnout by low-income and minority voters.
In fact, the preponderance of evidence shows that the scourge of voter fraud is largely a figment of the right-wing imagination, and as Jamelle Bouie documented in the Daily Beast over two years ago, multiple Republicans have flat-out admitted that voter ID laws, along with restrictions on early voting, are deliberately intended to keep likely Democrats safe at home on election day.