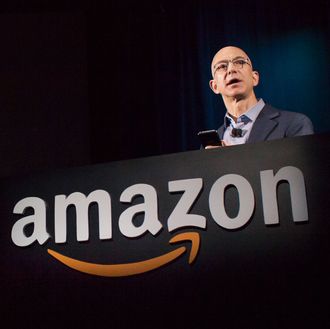 Amazon.com founder and CEO Jeff Bezos.
Photo: David Ryder/Getty Images
Amazon has decided to sue more than 1,000 "John Does" for writing fake reviews of its products.
The online retailer claims the anonymous commenters are leaving "false, misleading and inauthentic" reviews on products they never actually purchased, according to the official complaint filed in Seattle on Friday. The 1,114 reviewers allegedly sold their services for $5 on Fiverr, a site where clients can pay for small tasks, like document proofreading, CSS fixes, or five-star reviews for products they happen to be selling online. Amazon has sued fake reviewers before; many of the operations sued by the tech behemoth in April have since evaporated.
Alleged paid five-star reviews on a certain USB cable, for example, include comments like "Definitely buying more … I was impressed with how bright the lights on the cable are" and "This has lit up my life," The Guardian reports.
Amazon plans to sue the freelance reviewers, rather than Fiverr itself, for violating Amazon's terms-of-use policy banning fake reviews, CNN Money reports. Fiverr also bans bogus review-writing, noting in a statement, "The challenge of merchants soliciting illegitimate reviews is one that faces all marketplaces and online platforms. In fact, in our own marketplace, we restrict reviews to only those who we can verify have actually purchased a service."
However, the court filing alleges that some Amazon sellers send potential product poets empty envelopes so reviewers can claim they bought the item they later end up praising.
It is unclear whether the lawsuit will have a deleterious effect on the near-perfect rating of the Daddle.