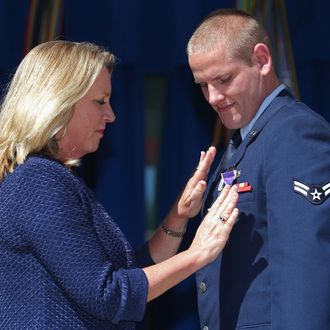 Stone receiving a Purple Heart in September.
Photo: Chip Somodevilla/Getty Images
One of the United States servicemen who overpowered a shooter on a Paris-bound train in August was stabbed in Sacramento on Wednesday night. According to an Air Force spokesperson, 25-year-old Airman First Class Spencer Stone was hospitalized and is now in "stable condition." Meanwhile, the Sacramento Police Department said that the incident was unrelated to Stone's role in this summer's big USA! USA! moment, which earned him and friends Alek Skarlatos and Anthony Sadler personal thank-yous from President Obama and French president Francois Hollande.
It seems that Stone and some pals got into an argument with someone outside a bar. No surprise, the cops said that "alcohol is believed to be a factor." From Air Force Times:
"It is believed that the victim was out with a group of friends when a physical altercation led to the victim being stabbed multiple times in his upper body," the news release says. "Detectives were called to the scene to assist with the investigation and the victim is currently being treated for what appears to be non-life threatening injuries."
NBC News reports that the police have yet to make an arrest or release a description of a suspect.