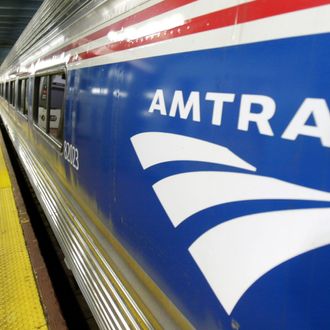 Photo: Mario Tama/Getty Images
An Amtrak train derailed in Vermont on Monday morning. While the Associated Press reports that at least four passengers have been hospitalized, the accident appears to be considerably less serious than Amtrak's last derailment, which killed eight people outside of Philadelphia in May.
Train 55 — a southbound Vermonter, which runs between Saint Albans, Vermont, and D.C.— was traveling through Northfield when it "[struck] a rock slide on the tracks." The local fire department told the AP "a total of five cars, all occupied, were involved" and that "three of the five cars went over the steep embankment." Meanwhile, NBC News reports that "[t]he two cars that fell down the bank were the engine and one that held only a conductor, who was injured but not severely."
No fatalities or life-threatening injuries have been reported so far.