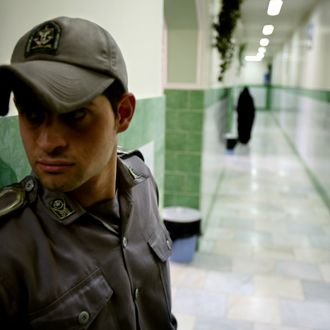 Tehran's Evin Prison.
Photo: Morteza Nikoubazl/© Corbis. All Rights Reserved.
A prominent Iranian-American was arrested in Iran earlier this month, the Washington Post reports, becoming the fourth dual citizen now in the custody of the country's security forces.
Dubai-based businessman Siamak Namazi, the scion of a notable family who has worked for more than a decade as a consultant helping Iranian companies do business with foreign firms, was reportedly arrested in Tehran while on a visit. It is not yet clear why he was arrested or whether he has been charged with any crime.
IranWire reported two weeks ago that an unnamed dual citizen was taken to Tehran's infamous Evin Prison. Other members of the Iranian-American community later identified the arrestee as Namazi on Twitter, and the Post cited a family friend of his. The State Department declined to confirm Namazi's arrest. His family had hoped to keep the news out of the public eye.
The reason why he might have been arrested wasn't clear, though hard-line elements of the Iranian regime remain staunchly opposed to any rapprochement with the U.S., so it's not inconceivable that Namazi's advocacy of foreign trade could have made him enemies in Tehran.
Those same elements could also have been making a last-ditch effort to sabotage the nuclear deal before it went into effect. "Adoption day," when Iran was required to begin taking steps toward fulfilling its commitments, was on October 18, just days after Namazi's arrest.
Last month, a pseudonymous Iranian dissident wrote in the Daily Beast that the Namazis are "The Shady Family Behind America's Iran Lobby," suggesting that Siamak Namazi's support for Iranian-American détente had more to do with his family's business interests than any liberalizing impulse, and linked him with the founding of the National Iranian American Council (NIAC), which lobbied for the American nuclear agreement with Tehran and the lifting of sanctions and which anti-Iran hawks frequently accuse of shilling for the Iranian regime.
The NIAC responded that "the reports are false, and the pseudonymously asserted claims were deconstructed in an analysis by the media watchdog group, Media Matters. While Mr. Namazi has known members of NIAC's staff, neither he nor his family have had any leadership or any other significant role with NIAC."
Three other Americans are currently in jail in Iran: Post correspondent Jason Rezaian was arrested last year and recently convicted of espionage, former Marine Amir Hekmati has been held as a suspected spy since 2011, and pastor Saeed Abedini was convicted of threatening national security in 2013 for attending home-church services.
The State Department has lobbied the Iranian government to release these prisoners, but to no avail. Iran does not recognize dual citizenship.
This post has been updated throughout.