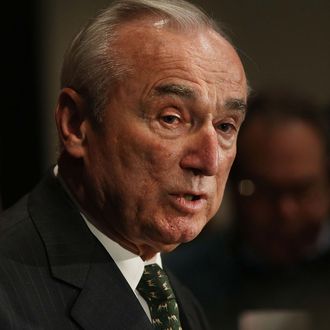 Photo: Spencer Platt/Getty Images
Gerald Brooks could escape NYPD custody with two hands tied behind his back. In fact, the 39-year-old domestic-violence suspect did just that early Tuesday morning in East New York. Brooks had already been handcuffed and was about to be loaded into a police van when he allegedly pushed one detective and then managed to lose the three officers that chased him, becoming the fifth person in NYPD custody to escape since June, police told reporters Tuesday afternoon.
NYPD Commissioner William Bratton could "barely shackle his anger" when discussing the escape at City Hall Tuesday afternoon, according to the Daily News.
"Once again, it's an embarrassment to the department," Bratton said. "As far as the officers involved, they're an embarrassment to themselves, in terms of their professional skills, or lack of them, once again letting a prisoner escape in the city, and they will be dealt with appropriately."
"I'm very concerned when somebody in a pair of handcuffs, handcuffed behind them, can flee from three of my officers and they can't catch him," he added.
Among the other recent runaways was a woman who tricked police into taking her to New York–Presbyterian Hospital by saying she was pregnant and bleeding. Shortly after doctors determined she was not pregnant, the suspected T-shirt thief fled the premises while the officer assigned to guard her was in the bathroom. Like all of the other recent escapees, 23-year-old Tiffany Neumann was eventually apprehended.
"If the cops would just pay attention to their responsibilities a lot of this stuff would stop," Bratton said Tuesday.