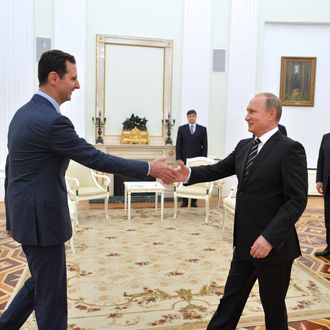 Assad and Putin shake hands while simultaneously competing in a smiling contest.
Photo: Alexey Druzhinin/Ria Novosti/AFP/Getty Images
Syrian president Bashar al-Assad made a surprise visit to Moscow on Tuesday night for a smile-filled photo op with his new best friend Vladimir Putin, one of the few leaders in the world interested in vaporizing the Islamic State and keeping him in power.
"First of all I wanted to express my huge gratitude to the whole leadership of the Russian Federation for the help they are giving Syria," Assad told Putin. "If it was not for your actions and your decisions the terrorism which is spreading in the region would have swallowed up a much greater area and spread over an even greater territory."
Although Putin originally said that the air strikes Russia has begun to conduct in Syria would only target territories controlled by ISIS, they have more often hit places where rebel forces fighting the Syrian government reside — something that has frustrated the U.S. and its European allies. Yesterday, the U.S. and Russia reached an agreement that will help make sure that planes and drones don't collide while the two countries continue to be at odds. 
"The Syrian people has been practically alone in putting up resistance and fighting these international terrorists for several years now, and has suffered great losses," Putin said, acting as if Russia were the only country doing anything in Syria. "Lately though, there have been some major positive results in this fight."
Meanwhile, officials in Iraq are trying to prod Prime Minister Haider al-Abadi into asking Russia for help, too. Abadi is unsurprisingly worried about how his American friends would react if he did this and is reticent to do anything that drastic, at least right now. 
Putin had invited Assad to make the trip to Russia — and didn't make the quick stop public until Wednesday morning. This is supposedly the first time Assad has left Syria since the civil war began in 2011; he was afraid that he'd be overthrown if he ever left, even for a short while. Now that Russia is offering more assistance, he clearly thinks he's in a safer spot. According to the New York Times, it may have been the first time the two leaders have met since 2007. 
Turkey thinks it's fine if Assad decides he likes Russia so much he never wants to leave. Turkish prime minister Ahmet Davutoglu told reporters, "What can I say. If only he would stay longer in Moscow so the Syrian people can be at ease, or if only he could stay there permanently and a real transition period could begin."