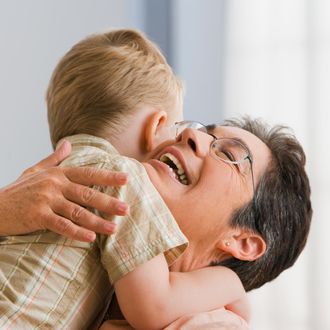 Photo: Jose Luis Pelaez/Corbis
A Connecticut jury is being asked to render a verdict in the case of an allegedly recklessly joyful 8-year-old over his deployment of "unreasonably forceful" affection toward his aunt (who, of course, lives in Manhattan).
In Connecticut's Superior Court on Friday, a New York woman asked a jury to hold her nephew accountable — to the tune of $127,000 — for the  leaping hug that he gave her at his eighth-birthday party. She was knocked to the ground and broke her wrist.
On the morning of March 18, 2011, little Sean Tarala of Westport was joyfully riding a new two-wheel bicycle around his house, when he spotted his 54-year-old aunt, Jennifer Connell, arriving for his party, according to the Connecticut Post. The boy then threw the bicycle to the ground and exclaimed, "Auntie Jen, Auntie Jen."
"All of a sudden he was there in the air, I had to catch him and we tumbled onto the ground," Connell testified. "I remember him shouting, 'Auntie Jen, I love you,' and there he was flying at me."
The local paper reports that Tarala, now 12, "appeared confused as he sat with his father, Michael Tarala, in the Main Street courtroom." The boy's mother, Lisa Tarala, died last year.
Connell testified that she loved her nephew, but that he should be held accountable for her injury, which she claims upended her life.

"I live in Manhattan in a third-floor walk-up so it has been very difficult," she said, according to the Post. "And we all know how crowded it is in Manhattan."
There have also been ramifications to Connell's social life.
"I was at a party recently, and it was difficult to hold my hors d'oeuvre plate," she testified.
The lawsuit claims: "The injuries, losses and harms to the plaintiff were caused by the negligence and carelessness of the minor defendant in that a reasonable eight-year-old under those circumstances would know or should have known that a forceful greeting such as the one delivered by the defendant to the plaintiff could cause the harms and losses suffered by the plaintiff."

Update (4:36 p.m.): It took the jury 25 minutes to conclude that Sean Tarala was not negligent in his aunt's wrist injury, according to the Daily News.

"We just couldn't find him, you know, liable for what happened," a female juror told the paper.
Tarala's lawyer, Thomas Noniewicz, told the Daily News that the only thing his client was guilty of was "trying to give his aunt a hug on his birthday."
Sources