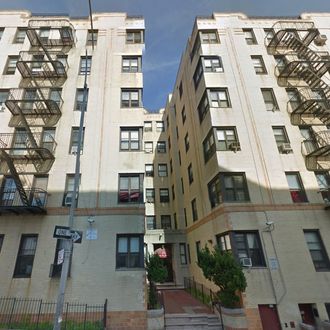 Twenty-seven-year-old Tenisha Fearon was taken to court on Friday for allegedly throwing her 6-month-old baby out the window of a sixth-floor apartment in the Bronx yesterday. A judge ordered a psychiatric evaluation for her, and she is currently being held without bail on murder charges. As she left the station house where she was being held this morning, she yelled to her godmother, according to the Daily News, "I spoke to you and you didn't listen!" 
On Thursday afternoon, 911 dispatchers received several calls about an emergency happening at 2200 Tiebout Avenue. As dispatchers listened to callers describe the scene, they heard people yelling, "Don't throw the baby. Don't throw the baby," in the background, according to the New York Times. 
When police officers arrived at the scene, they learned that Junilah Lawrence had been thrown out of an apartment window and was seriously injured. She was taken to St. Barnabas Medical Center and later pronounced dead, according to NBC New York. 
Her neighbor, Lizette Rodriguez, could hear Fearon yelling, "I'm going to throw her. We're all gonna die!" She later told the Times, "I heard the thump when I was on the phone with 911. And I gasped, 'Oh my God.'" The neighbors, who had congregated on the rooftop, all shouted "No!" when the baby was thrown. 
Fearon's three other children were reportedly inside the sixth-floor apartment when she was found by the authorities; they had been there when the baby was seen dangling outside the window by people on the roof. Gregorio Lopez told CBS News, "I saw her naked and the three kids naked and I thought they were all dead. And then she jumps up and starts hitting the window." When he saw the authorities, he told them to hurry up, worried that the rest of the children might be thrown outside, too. The Administration for Children's Services is currently investigating the situation. 
Until April, when Junilah was born, Fearon ran a licensed day care out of her apartment. The New York State Office of Children and Family Services told NBC News, "Tenisha Fearon was a registered family day care provider from 2013 to 2015 with no complaints or violations. Her registration expired on April 30 and she did not apply for renewal. Her program is closed."
This is the third time in three months that a woman has been accused of throwing a baby out of a window in New York City. Last month another baby was found dead in an alley after supposedly being thrown out of a window on the seventh floor of an apartment in the Bronx. A mother said she was trying to rid her son of an evil spirit and stop his pain when she allegedly threw him out of a fourth-story window in Queens in August. Both pled not guilty.
This post has been updated throughout.