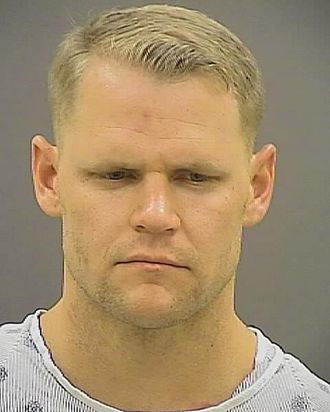 Michael Flaig.
Photo: Baltimore City Police Department
This past May a Maryland cop was arrested for wreaking more havoc than is usual for a Cinco de Mayo night on the town. Michael Flaig, an officer with the Anne Arundel County Police Department, was busted after punching the roommate of a woman he was flirting with, and biting into his testicles. The Corona-fueled freak-out has led to Flaig's formal dismissal today after a summer on administrative leave while facing charges of second-degree assault and public intoxication. He was placed on administrative leave following the incident, but in a plea agreement reached between Flaig's attorney and county prosecutors, the officer will serve one year of probation and resign from the force, the Annapolis Capital Gazette reports. 
According to reports, the victim claims Flaig groped his female roommate at Looney's Pub in Baltimore. After verbally rebuking Flaig for what he saw as inappropriate touchiness, the man was punched by the ten-year department veteran. A brawl ensued with the man pinning Flaig to the ground, straddling him. The flailing, wasted cop resorted to the oral assault at this point by biting the man in his "testicle area."
When Baltimore police arrived on the scene, Flaig's blue-and-white polo was soaked in blood.
Flaig's attorney claims he was defending himself, and the attack stemmed from untreated psychological trauma faced when the officer was involved in the fatal shooting of a mentally ill 18-year-old wielding nine-inch scissors back in 2007. "I think you can find a direct correlation of emotional trauma that was never properly treated," O'Neill said.