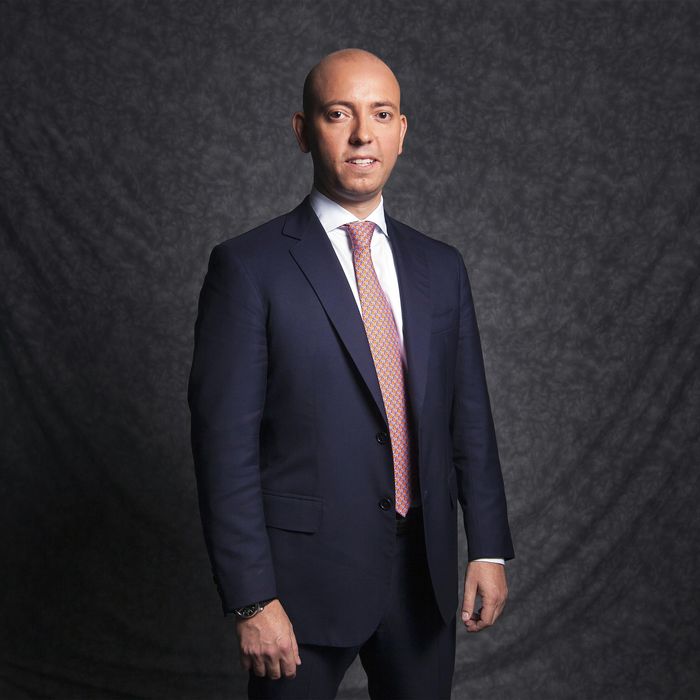 Greg Smith in 2012.
Photo: Lucas Jackson/Reuters/Corbis
You might remember Greg Smith. A few years ago, the Goldman Sachs banker published a New York Times op-ed as he cleaned out his desk, excoriating the firm for treating its clients like piggy banks. Those 1,300 or so words temporarily cost Goldman $2 billion in market value and kicked off a sprawling media brawl about ethics on Wall Street. Smith wrote a book capitalizing on the attention. Then he disappeared. But now the once-infamous Wall Streeter is back. And he wants to fix your retirement savings for a modest monthly fee.
Smith has signed up as the president of Blooom — three O's — a midwestern start-up with big ambitions in the not exactly sexy world of 401(k) management. Founded last year, the company uses proprietary technology to assesses average Americans' readiness for retirement and then helps them improve their asset allocation and reduce their fees. Last week, it announced that it has raised $4 million in funding from QED Investors and others.
Smith describes the change as thrilling: leaving the top of the financial food chain for a Kansas-based small business, giving up giant sovereign-wealth funds as clients and picking up elementary-school teachers and bus drivers. "It's been absolutely amazing," he told me. "When you work in finance, people lose sight of whose money you're dealing with." His colleague, Blooom chief executive officer Chris Costello, was more direct. "I'm not trying to make this about Greg," he said. "But it's an amazing human story."
Amazing or not, it is one Smith is excited to tell. After he left Goldman and wrote his book, he got pulled into the political wrangling over the Dodd-Frank financial-reform bill, meeting with staffers for senators and the alphabet soup of regulatory agencies. "We were largely talking about transparency and the lack of fiduciary duty," he said. Then he saw Costello present at Finovate, a banking-technology conference. "We started a four- or five-month dialogue," Smith said. "We had a real meeting of the minds: Millions of Americans are swimming in a confusing retirement pool which does not equip them to be okay in this economic climate. I saw that we shared an idealism and that notion of fiduciary duty."
By fiduciary duty, he means a commitment to act in a client's true interest. A dearth of fiduciary duty is a big problem in finance in general and in 401(k)s in particular. The tax-advantaged savings vehicles are great in theory: Workers choose a plan offered by their employer and then have part of their take-home deducted and ushered to the markets. In practice, the process is a mess. Many families fail to put anything close to enough money in them. Employers often offer crummy options with high fees. And it can be hard for workers to pick a smart option when presented with a dizzying choice of plans with inscrutable names.  
Costello saw the financial carnage in his years as an adviser. "Incredibly intelligent people with advanced degrees, successful in their own careers," he said, "I'd look at what they had cobbled together and 80 percent of the time it would be a complete and utter mess. I don't mean that from the standpoint of opinion, where another adviser might come in and say, 'Hey, that's okay!' I mean it was clear they had no idea what they were doing."
Blooom tries to address those problems. It is not an investor, like Vanguard or Fidelity. It does not take its clients' money and put it in the market. Rather, it is an adviser: It takes a look at a given worker's retirement options and helps them choose among them. It scrubs away the bad choices, often directing the worker toward low-cost index funds. It ensures that younger workers have more risk, and older workers less risk. It ensures that diversification really means diversification. It also rebalances workers' portfolios for them over time.
In the process, Blooom tries to help workers understand what they have invested and how in plain language. It uses the image of a flower to let them know how they're doing on their savings — "Is your plant healthy or withered?" is easier to understand than "Do you have adequate, diverse, low-cost investments?" For this service, it charges a flat fee: $1 a month for workers with less than $20,000 and $15 a month for workers with more than that.
The idea is to act in a worker's interests where too often funds and employers do not, Smith explained. You might have a retirement account with a big firm. And it might tell you how it thinks you're doing. But it is not an independent counsel. And even your employer has less incentive than you might think to pick out good funds for you to choose from. "There is no free lunch. You cannot beat the market," Smith said. "We're not going to help you beat the market. We're going to help you get your behavior right. That means minimizing fees. That means not selling at the wrong time."
It is a far cry from the derivatives desks on Wall Street, but Smith said he liked it. "It's been really great," he said. "I think the reason innovation is coming from Kansas City is that there's a huge amount of group-think and follow-the-herd behavior in both the East Coast" and the West Coast — the former with big, baby-boomer-led incumbents, the latter with firms that treat investing as more of a game. He spends about four days a month in Kansas, he added.