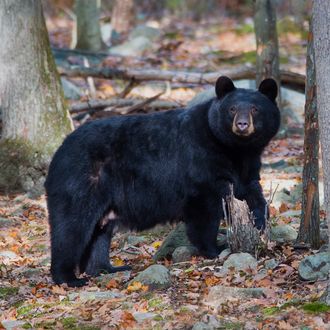 A black bear.
Photo: Nature's Gifts Captured
Just 30 miles from Manhattan, "potentially aggressive" black bears are harassing hikers in New Jersey's Ramapo Mountain State Park. Two animal encounters were reported last weekend, according to NBC New York. On Saturday, three female hikers were followed by a bear, but they were able to escape after encountering a male hiker and his dog. Later in the day, a bear repeatedly approached a male hiker and swatted at him. He fought back with pepper spray, but was only able to lose the bear when when he reached a pedestrian bridge over Route 287.
Thankfully, the bears haven't had any physical contact with humans on park trails. Still, out of an abundance of caution, Division of Fish and Wildlife officials have closed the 4,200-acre park through the end of the week.
To curb the uptick in bear-on-human aggression, wildlife officials have already euthanized a bear suspected of harassing hikers, and placed bear traps throughout the park. New Jersey officials may be more on edge following the state's first known fatal bear attack in September 2014. Darsh Patel, a 22-year-old Rutgers University student, was killed at the Apshawa Preserve while hiking with friends.
The state has released tips for what to do if you find yourself face to face with a black bear. Basically, you should fight the urge to run or play dead, and just stay calm and back away slowly.