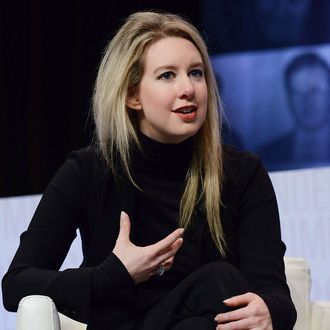 Photo: Lisa Lake/Getty Images
For Silicon Valley, the story of Theranos was too good to be false. In a Palo Alto full of start-ups innovating new ways for the rich to outsource their chores, here was a company that aimed for nothing less than a revolution in preventive medicine: Theranos's breakthrough medical technology would drastically reduce the price Americans paid for blood tests, while also sparing them the anxious discomfort of a needle in the arm. With the company's patented low-cost, finger-pricking blood tests soon to be available in every pharmacy, millions of Americans would gain easy access to potentially life-saving information about their own health — all thanks to the vision of a photogenic Stanford dropout, who founded the company in her dorm room at age 19, wears the same black turtlenecks favored by Steve Jobs, and is now the world's youngest self-made female billionaire.
That story launched a thousand admiring profiles of Theranos's 31-year-old CEO, Elizabeth Holmes, including a Ken Auletta profile in the New Yorker in December, and, this month, inclusion in T: The New York Times Style Magazine atop a breathless list of "Five Visionary Tech Entrepreneurs Who Are Changing the World." "It's hard to overestimate the potential benefit of what Elizabeth Holmes has developed with her tech company Theranos," the story notes.
But a brutal exposé in Thursday morning's Wall Street Journal suggests that it's actually quite easy to overestimate that benefit — so easy, nearly every major media outlet already did.
Investigative reporter John Carreyrou portrays Theranos as a company whose hype — and $9 billion valuation — outpaced the actual medical technology both were based on. In the article, Carreyrou speaks with several former Theranos employees who claim that of the 200 types of diagnostic tests the company offers, only 15 are actually processed by the company's proprietary "Edison" machine — the vast majority of tests being outsourced to machines developed by legacy labs. Further, the employees allege that there's a good reason the device is so little used: Its results are highly inaccurate. One former employee told the paper that the machine routinely produced potassium readings so high, "patients would have to be dead for the results to be correct."
The Edison machine is Theranos's innovation — it's the blood-testing device so exquisitely fine-tuned, it can make accurate diagnostic tests using the tiny bit of blood that's extracted from a finger prick. If the Edison is a dud, then Theranos is just a relatively small blood-testing company with great branding, as well as a competitive price and fast turnaround time — both of which may come at the cost of accuracy.
The Journal article's strongest allegation is that Theranos tried to hide the inaccuracy of Edison's results by manipulating federally mandated proficiency tests in a manner that may have violated legal requirements.
All blood-testing labs are required to prove the accuracy of their results to the federal Centers for Medicare and Medicaid Services. This is done through a process called proficiency testing, in which accredited organizations send samples to labs, who then test them and report back their findings. If the lab's results match the average of the lab's peers, then Uncle Sam gives that company his stamp of approval.
Internal emails obtained by the Journal show that Theranos split some of its proficiency-testing samples into two groups — one tested with Edison machines, the other by other companies' instruments.
The Edisons returned significantly different results than those from the other machines when testing for vitamin D, two thyroid hormones, and prostate cancer. Several employees raised concerns about the discrepancy but were rebuffed by management.
Former employees told the Journal that they were told to stop using Edison machines on any of the proficiency-testing samples and only report results from the nonproprietary instruments. The employees said they did as they were told, despite concerns that they were violating federal rules, which mandate that labs handle "proficiency testing samples … in the same manner as it tests patient specimens" and by "using the laboratory's routine methods."
When not being tested, Theranos would routinely use the Edison machines to test patients' blood samples for vitamin D, the two thyroid hormones, and prostate cancer, according to the former employees.
In response to the article, Theranos released a statement claiming that the "disgruntled former employees" quoted by the Journal "were never in a position to understand Theranos' technology and know nothing about the processes currently employed by the company."
After the news broke, people quickly called the story "brutal" and "excellent and damning." Regardless of what Holmes thinks of the story, it's clear that Theranos is going to have to start dealing with a lot of new questions it hasn't had to address amid all the praise. 
Theranos's mission to provide universal access to low-cost, needle-free blood tests is a valuable one. And there's no reason to doubt the sincerity of Holmes's intentions for her company. But the Journal's investigation suggests that there may have been very good reason for investors to doubt her ability to realize those intentions. Some valuations are too big to be true.