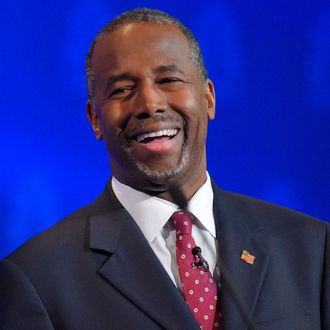 Photo: Mark J. Terrill/Corbis
Last night's Republican presidential debate was hardly lacking in demonstrable lies uttered with total conviction. One of the more audacious was Ben Carson's claim that he never had "any kind of relationship" with controversial nutritional-supplement company Mannatech.
At the debate in Boulder, CNBC moderator Carl Quintanilla asked Carson why he had maintained a ten-year relationship with Mannatech, despite the fact that the company paid $7 million to settle a deceptive-marketing lawsuit brought by the state of Texas in 2009. The suit accused Mannatech of circulating materials that advertised its supplements as a miracle cure for Down syndrome, cystic fibrosis, autism, and cancer.
"Well, that's easy to answer," Carson replied. "I didn't have an involvement with them. That is total propaganda. I did a couple speeches for them. I did speeches for other people. They were paid speeches. It is absolutely absurd to say that I had any kind of relationship with them."
Then, less than a second after mocking the implication that he had ever helped to promote Mannatech's supplements, Carson took the opportunity to promote Mannatech's supplements. "Do I take the product? Yes. I think it's a good product," he said.
Carson's non-relationship with Mannatech dates back to at least 2004, when he spoke before a meeting of its sales associates, The Wall Street Journal reported last month. In that address, the celebrated neurosurgeon credited Mannatech's supplements with curing his own prostate cancer.
"Within about three weeks my symptoms went away, and I was really quite amazed," he says to loud applause in a video of the event. 
At the company's 2011 convention, Carson thanked Mannatech for donating a portion of the $2.5 million required to establish his endowed chair at Johns Hopkins University.
"Three years ago, I had an endowed chair bestowed upon me," Mr. Carson said in his keynote address, "and uh, it requires $2.5 million to do an endowed chair and I'm proud to say that part of that $2.5 million came from Mannatech."
The Carson campaign recently told The Wall Street Journal that there was no such contribution. But then Carson also just told a national television audience that he never had "any kind of relationship" with a company that he once publicly credited with saving his life. Carson gave another paid speech at a Mannatech gathering in 2013, for which he collected $42,000, according to the Journal. That same year, he appeared in a promotional spot for the company, in which he praised Mannatech for providing its consumers with God's chosen "fuel."
"The wonderful thing about a company like Mannatech is that they recognize that when God made us, they gave us the right fuel. And that fuel was the right kind of healthy food … Basically what the company is doing is trying to find a way to try to restore natural diet as a medicine, or as a mechanism for maintaining health," he says.
In 2014, Carson praised "glyconutrients," one of Mannatech supplements' signature ingredients, in a PBS special.
Mannatech promoted the special on its website, writing, "Dr. Ben Carson, who has had a long standing association with Mannatech, will be conducting an informational presentation on PBS regarding brain health, referencing glyconutrients."
The Huffington Post notes that Carson's non-relationship with Mannatech is, in fact, a family affair. Last year, Carson's mother appeared in a video with H. Reginald McDaniel, who helped develop the company's original supplement. The video, featured on the site Hope 4 Alzheimers, promotes the "cognitive/physical gains of Mrs. S Carson after a few months of supplementation." Carson later said that he was "shocked, disappointed, and disturbed" by the video.
"Sometimes you get involved with people who have not the best of intentions," Carson's business manager, Armstrong Williams, told the National Review when the conservative outlet asked about the candidate's relationship with Mannatech earlier this year. "They're using him to publicize their website, to monetize it, get people to believe that this is endorsed by Dr. Carson. The facts don't match the reality of what they're promoting to their audience. These things have their own biology and a way of solving themselves. It's not our job to go out and say that 'Mannatech is a bad company, Mannatech exploited Dr. Carson.' What we have to do is a better job in vetting these companies that approach. We get this all the time."
Wednesday night in Boulder, Quintanilla asked Carson if his association with Mannatech cast doubt on his "vetting process or judgment in any way." A chorus of boos rained down onto the moderators' table.
"See, they know," Carson said.
And then, like the crowds at Mannatech's conventions, the Republican audience applauded Dr. Carson for telling them exactly what they wanted to hear.