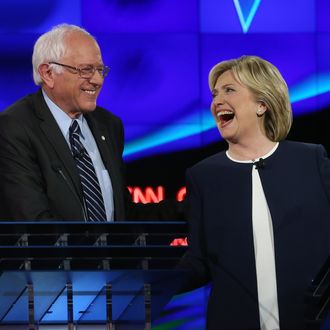 Photo: Joe Raedle/Getty Images
In the hours following last night's presidential debate, Bernie Sanders managed to pull in close to $1.3 million in contributions. Minutes after last night's most raucous moment, when Sanders refused to attack Clinton over her ongoing email troubles — "The American people are sick and tired of hearing about your damn emails" — his team sent out an email blast to supporters asking for a $23.81 contribution.
Onstage, Sanders conceded that it might not have been "good politics" to shut down debate on Clinton's State Department emails, but his gambit seems to have paid off, literally. His campaign claims that, just five minutes after the candidates walked offstage, it had already raised at least $100,000. Only hours later, the total had topped $1 million.
Social media was also aflame for Sanders. Google data shows that despite Sanders's vulnerability on guns and his weaknesses on foreign policy, his ideas were the most engaging to viewers. With the exception of a brief blip when Clinton spiked, around 9:48 p.m., when she talked about her emails, Sanders was the most-searched candidate of the night. Of the Democrats debating, he was the most retweeted of the evening. He also gained the most followers on Twitter.
One of Sanders's less exciting achievements last night is landing in Donald Trump's sights. Trump, who it should be noted added more Twitter followers on the evening than all of the Democratic candidates combined, had his campaign cut a quick video decrying Sanders's lack of "tough" or "strong" leadership on Instagram.