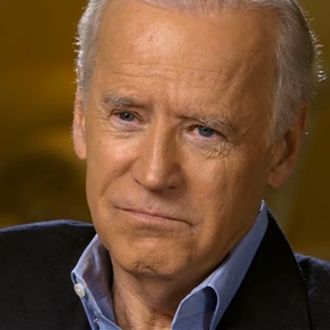 After remaining mostly silent for months as rumors swirled about his decision process, on Sunday night Joe Biden appeared on 60 Minutes to elaborate on why he decided not to run for president, and the long process that led to his announcement last week. "Is it that you think you couldn't win or that you didn't want to run?" asked Norah O'Donnell. "Couldn't win," Biden answered. "I'll be very blunt, if I thought we could've put together the campaign that our supporters deserve and our contributors deserved I'll — I would have gone ahead and done it."
Biden said in several previous interviews that he was deciding if he and his family were emotionally ready for a campaign, just a few months after his son Beau died of brain cancer. He said that grieving doesn't "follow schedules of primaries and caucuses and contributors," and offered an example of what the family is going through. Biden said at one point last summer he was leaning toward running, but then during a family dinner his granddaughter started sobbing in his arms, saying, "Pop, I see Daddy all the time. I see Daddy all the time. Pop, you smell like Daddy. You're not gonna leave me, are you Pop?" Biden said, "Well, when that happens, you go, 'I don't know, man, how — you know, how could —' and so there are those kinds of ups and downs."
While in general, reports about Biden's dilemma were correct, he and his wife refuted many of the stories that circulated recently. In late September the AP suggested that Jill Biden was hesitant about another campaign, but during the interview she said she was "disappointed" when he finally decided that he didn't have time to enter the race. The VP recalled that at one point he thought about dropping out just to end all the media speculation, but Jill said, "What about the Supreme Court?" She continued, "What about education? What about community colleges? I felt like we were — everything we had worked so hard for in this administration, you know, could all — could just all change."
Biden also disputed a persistent rumor that first appeared in Maureen Dowd's New York Times column: that Beau Biden urged his father to run on his deathbed (while he didn't mention it specifically, presumably Biden also takes issue with Politico's claim that he leaked the story himself). He said:
… some people have written that, you know, Beau on his deathbed said, "Dad, you've got to run," and, there was this sort of Hollywood moment that, you know, nothing like that ever, ever happened. Beau from the time he was in his 30s, or actually his late 20s, was my — he and Hunter were one of my two most reliable advisers. And, Beau all along thought that I should run and I could win. But there was not what was sort of made out as kind of this Hollywood-esque thing that at the last minute Beau grabbed my hand and said, "Dad, you've got to run, like, win one for the Gipper." It wasn't anything like that.
When asked why he still sounded like a candidate in his campaign speech, Biden denied that he was trying to position himself as a backup for Hillary Clinton. "I was making the case that I do want to influence the Democratic Party," he said. "I want to make no bones about that. I don't want the party walking away from what Barack and I did." Biden insisted he gets along with Clinton, and that his decision had nothing to do with the front-runner, but he did not offer an endorsement in the interview, and complimented her rival Bernie Sanders.
Biden emphasized that despite his decision he isn't ready to retire, and described his ambitions for his remaining 15 months in office, and beyond. He signaled that the White House wants to work with Paul Ryan, who's likely to be elected speaker of the House this week, calling him a "decent guy" who understands that government "can't function without reaching some consensus." He also said he's committed to pushing forward on finding a cure for cancer. "I am confident if we make the decision John Kennedy made of going to the moon, and we said, 'We are going to cure cancer,' within the next several years we can do that. That's how close it is," he said.
Biden said he's already talked to the president about making the budget and cancer research a priority, but how he can continue playing a role in Democratic politics after the Obama administration isn't clear. As Yahoo reports, there has been speculation about Biden working in a Clinton administration, setting up a presidential librarylike institution at the University of Delaware, or getting involved in diplomatic negotiations, like former President Jimmy Carter.
"There are plenty of people in politics and Washington who can't wait to give up some part of it, but not him," said Bruce Reed, the vice-president's former chief of staff. "I think if he had his way, he'd keep talking to foreign leaders and working rope lines and hammering out agreements for as long as he's still standing."