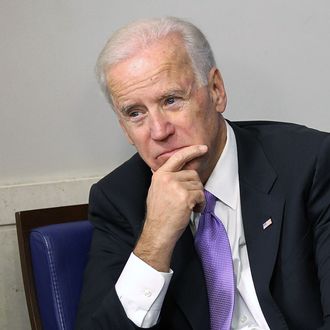 Joe Biden has something else to consider now.
Photo: Alex Wong/Getty Images
If Joe Biden jumps into the 2016 Democratic primary — a decision that he continues to weigh — he will launch his campaign with a crucial labor group's support. The International Association of Firefighters, a politically powerful union with 300,000 members, is planning to endorse Biden, according to a source with direct knowledge of the union's plans. Last week, Biden spoke with Harold Schaitberger, the union's general president, and discussed his potential campaign. Biden, according to the source, didn't definitively say he was in, but indicated that the building blocks were assembled for him to mount a campaign. When reached for comment, Schaitberger declined to discuss his private conversation with Biden, but indicated that his union would welcome his run. "If the VP were to announce his candidacy, our membership would certainly be very inclined to support that candidacy," he said. "We have a 35 year history with him. He's been very connected with our profession, supportive of our members, and has stood with us on issues."
Winning the IAFF endorsement would be a coup for Biden and a blow to Hillary Clinton. Last month, the Clinton campaign aggressively sought the firefighters' endorsement and thought they had secured an initial commitment. But on Monday September 28, Schaitberger called Clinton campaign manager Robby Mook and told him the IAFF had decided not to endorse Clinton.