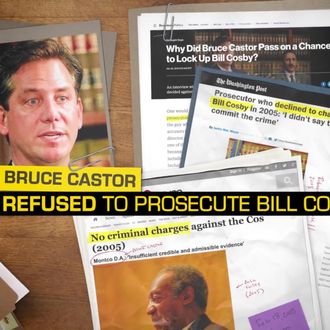 Democrat Kevin Steele is trying to win the race for district attorney of Montgomery County, Pennsylvania, by campaigning against Bill Cosby.
Steele recently launched an attack ad that reminds voters that his opponent, the county's former DA Bruce Castor, was in office during the first wave of sexual-assault allegations against Cosby in the mid-aughts.
"Bruce Castor, a former DA, refused to prosecute Bill Cosby," the ad's voice-over intones. "Castor said, 'We don't charge people for making a mistake or doing something foolish.'"
Back in 2005, a Temple University official named Andrea Constand accused Cosby of drugging and sexually assaulting her at his home in Montgomery County. Castor concluded there wasn't enough physical evidence to prosecute. But Constand went on to sue Cosby in civil court, forcing a settlement with the comedian in 2006.
On the surface, the ad may seem like an effective, if crude, political attack. But, as Castor reminded Steele in a scathing rebuttal on Facebook, people who work in glass district attorney's offices shouldn't throw stones.