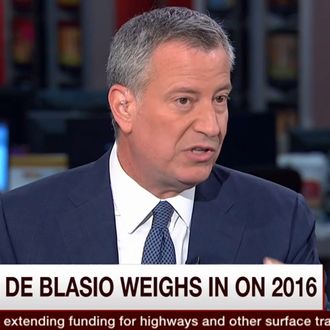 After six months of telling reporters that he was still thinking about it, New York Mayor Bill de Blasio finally endorsed Hillary Clinton on Morning Joe this Friday. 
"The candidate who I believe can fundamentally address income inequality effectively," he said, "the candidate who has the right vision, the right experience, and the ability to get the job done, is Hillary Clinton."
Earlier this week, Politico New York reported that de Blasio would give his former boss a thumbs-up "very soon." The news dropped on the same day that the Clinton campaign released a list with all the people on its New York leadership team. There were more than 100 names on it, including Governor Andrew Cuomo, both New York senators, all Democratic representatives, and every citywide official. Except Bill de Blasio. 
De Blasio did not attend Clinton's campaign announcement in New York City, and he said on several TV appearances since April that he was waiting to see "the substance" and "actual vision" of her platform. The mayor, who has tried to infuse national politics with his progressive passion, was eventually overshadowed by another leftie sentinel trying to influence presidential politics at an even more ambitious level: Senator Bernie Sanders. The fact that Hillary Clinton has continued to climb in the polls — and has already assembled an impressive wing of well-known New York supporters — turned the will-he-or-won't-he endorsement into even less of a political thriller, which is why de Blasio probably announced it on a Friday morning on cable, and why Clinton, per the Times, didn't put out a big statement acknowledging it.
"There's a lot of spine there and a lot of steel there," de Blasio said on Friday. "She has said what she believes in. This is a very sharp, progressive platform, and she has the ability to follow through on it."
However, even before this mini-series of an endorsement rollout completed, de Blasio gave constituents another political alliance to wonder about for the next few months. When reporters asked him this week if he was ready to endorse Cuomo — who is up for election in 2018 — he told everyone to chill out and live in the moment."We are going to have the 2016 cycle, then we are going to have the 2017 cycle, and then we will have a chance to talk about the 2018 cycle," de Blasio said, according to the New York Post. "When we get closer, we will certainly have that conversation." A few days earlier, Cuomo said he also didn't want to talk about endorsing de Blasio for his next mayoral race. "No. It's way premature for that," he said. "We have a lot of time before that decision's ripe."
Cuomo and de Blasio are not the best of friends — after it came out that Cuomo had probably been complaining about the mayor to reporters anonymously, de Blasio said that the governor was trying to "inhibit the agenda that new York city put forward," and that he wasn't "going to be surprised if these statements lead to some attempts at revenge." When Politico New York noted in a story this week that Cuomo has been talking about how bad things are in New York City a lot lately, the governor's spokesperson said it would be stupid to add this to the growing file of "Yep, these guys just don't like each other very much" stories. "You guys have spawned more sequels to this premise than the Fast and the Furious franchise."