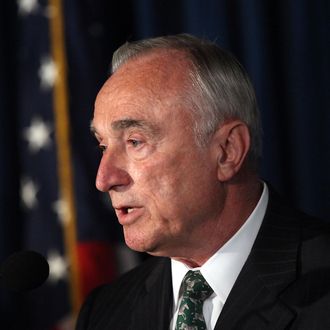 Photo: Spencer Platt/Getty Images
If New York City Police commissioner Bill Bratton catches you on the street mid-wake-and-bake, he will confiscate your joint and give you a stern lecture.
The commissioner, speaking at a New York Law School breakfast Friday morning, recalled how, as he was leaving a meeting downtown, he smelled marijuana smoke nearby. And he quickly spotted the college-student stoner perpetrator. According to the Post, he said: "I thought, "What the hell — 8:30 on Wall Street?'"
He and his security officer walked up to her and "politely" took the joint, which was being toked by a woman on her way to class, and flung it in the "local sewer," and then "suggested" to the student — who recognized him — "that she might have a better academic day" without being high.
He refrained from arresting her, however, though he noted that he could have.
Despite working for Mayor de Blasio, who has admitted he'd smoked pot in the past (and had to deny rumors that he's been smoking up in Gracie Mansion), Bratton's position on reefer madness is clear, unwavering, and goes back a ways, from when he got back from Vietnam and was offended by all the hippies ("I believed in order and conformity and the need for everyone to abide by social norms," he wrote in his autobiography, The Turnaround: How America's Top Cop Reversed the Crime Epidemic).
Back in March, he blamed marijuana dealers for the 20 percent increase in murders in the city, telling reporters: "The seemingly innocent drug that's being legalized around the country — in this city, people are killing each other over marijuana."