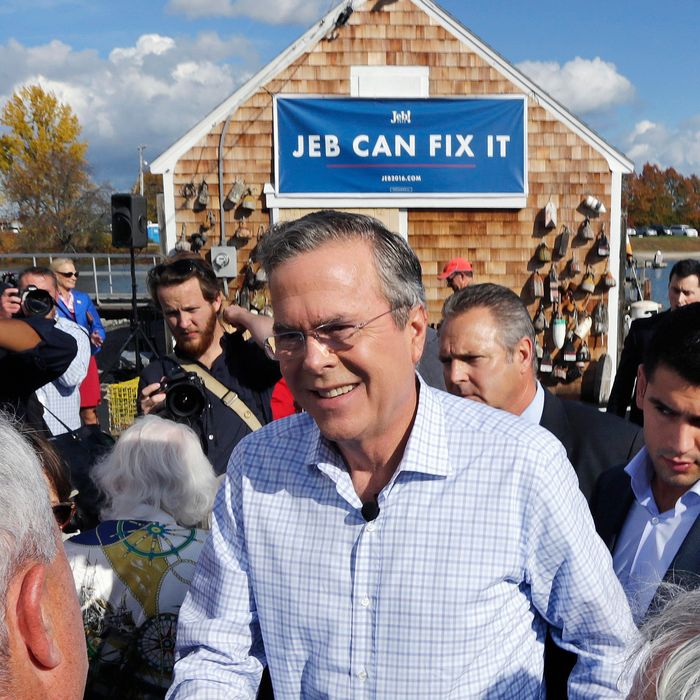 Jeb Bush campaigns in Portsmouth, New Hampshire on October 29, 2015.
Photo: Charles Krupa/AP/Corbis
After a third mediocre debate performance, Jeb Bush's campaign has finally acknowledged that it has problems being even more low energy won't fix. "The intensity is going to increase," Sally Bradshaw, Bush's senior adviser, declared during a conference call meant to reassure donors on Thursday afternoon. Bush admitted, "I could have done better," and vowed to "improve every day." He then ended the call by saying he had a free hour and was going to work out, which further alarmed some contributors. According to the New York Times, they "detected little urgency in his voice."
The AP reports that the call was hastily set up after the campaign's finance team was inundated with calls from concerned contributors following the debate. According to Republicans on the call, Bradshaw said the Bush camp intends to continue going after Marco Rubio, though many feel that was Bush's biggest blunder during the debate. (Bradshaw joked that last week the same people were urging him to attack Rubio for missing Senate votes.)
Rubio's team says they were inundated with calls too — from donors suddenly eager to get involved with the campaign. A campaign official said that by Thursday at 3 p.m., they'd raised $750,000 in online contributions from more than 14,000 unique donations. In Rubio's call to his supporters they were urged not to hit back at Bush, but of course, the Florida senator is trying to snatch away his donors. "For weeks, the money guys were with Jeb," Rick Wilson, a Florida-based strategist unaffiliated with either candidate told the Post. "Last night, those people were telling me, 'I'm calling Marco' or 'I'm done' or 'That was absurd' or 'I'm finished.'"
On the campaign trail in New Hampshire on Thursday, Bush continued trying to paint his protégé as the Republican Barack Obama. "We've had seven years with a divider in chief who was spectacular as a candidate, great speaker, he's a very, very good politician," Bush said in a Fox News interview. "Marco's my friend," he continued. "I admire him greatly. He is a gifted politician for sure. But I think we need to focus on who can lead, who can forge consensus, who can solve problems."
A campaign document obtained by U.S. News and World Report on Thursday reveals that attacking Rubio has been Bush's strategy for some time. Parts of the PowerPoint presentation intended for Bush backers were distributed to reporters earlier this week. Those pages painted an optimistic view of Bush's standing in the race, with several slides noting that candidates who topped the polls at this point in previous races — such as Wesley Clark, Rudy Giuliani and Herman Cain — did not become president.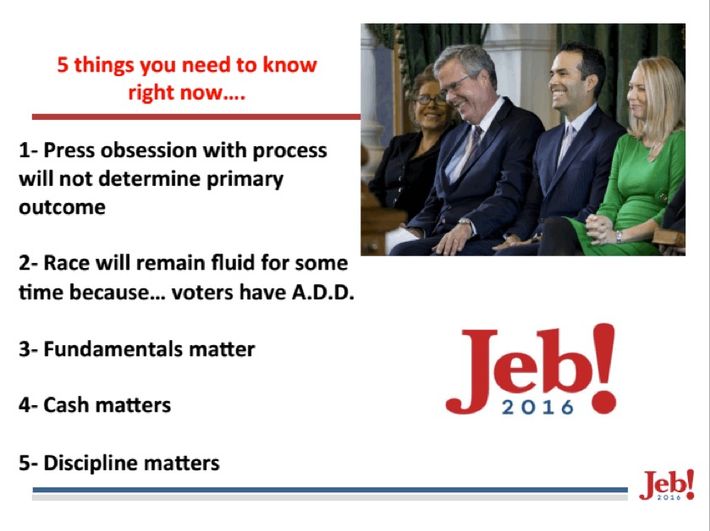 But the full 112-page memo contains nastier jabs at Rubio than simply calling him "GOP Obama."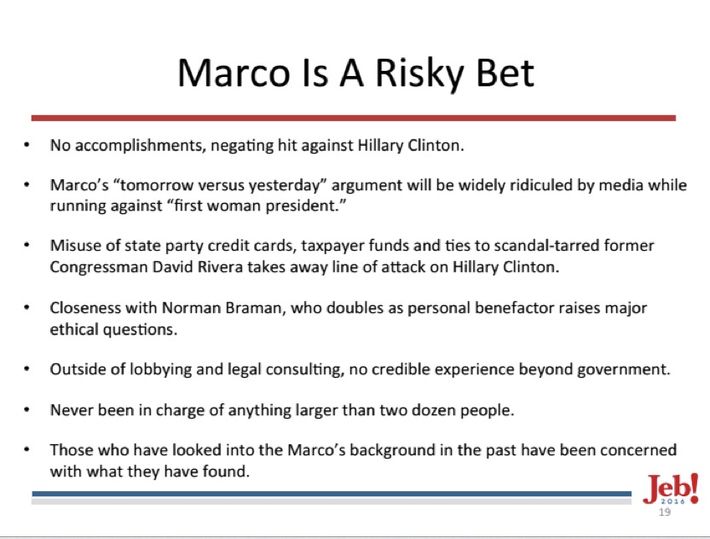 The Times outlined Rubio's financial troubles several months ago, and he's admitted that using a credit card from the Florida Republican Party to cover personal expenses was a mistake. On Thursday evening, Beth Myers, who oversaw Mitt Romney's search for a vice-president in 2012, told Politico, "Senator Rubio 'passed' our vetting and we found nothing that disqualified him from serving as VP." She added, "The Bush aide referred to in this article is simply wrong."
The full document also details Bush's strategy for the coming months. The campaign has set aside $10.8 million for a January advertising blitz, with $5.6 million going to New Hampshire. Just $1.4 million is allocated for Iowa, and it's clear the former governor doesn't expect to win the caucuses on February 1. The presentation reveals that after making more than 70,000 calls and collecting 5,000 emails, the Bush campaign has identified only 1,260 supporters in Iowa.
Bush signaled that he would be focusing on winning New Hampshire when his campaign announced it was downsizing last week, and he'll embark on a bus tour of the first primary state next week. As part of that effort his campaign rolled out a new slogan in New Hampshire on Thursday, and now it's taken on an awkward double meaning: "Jeb Can Fix It."