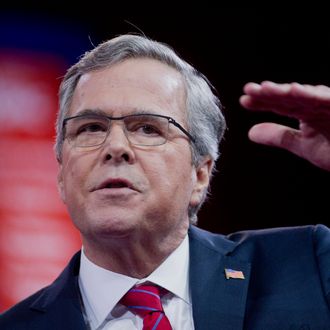 Jeb Bush has a plan to bring his energy levels down.
Photo: Andrew Harrer/Bloomberg
The euphemistic unveiling of budget cuts is one of the hardy rituals of any struggling campaign. The trick is to roll out the news in the most delicate way. No losing campaign is ever forced to cut its expenditures. Rather, they have identified smarter ways to target their spending. Eli Stokols and Marc Caputo report that Jeb Bush's floundering campaign is "running a more modest operation," in the words of one operative, and "going to prioritize voter contact," as a spokesperson delicately puts it. The campaign will also slash its travel expenses, using more commercial flights and eliminating private jets, another traditional sign of financial distress.
As the reporters point out, several months ago, the Bush campaign was boasting that its use of private jets was contributing to the candidate's superb performance on the stump:
On the first day of a two-day Iowa swing back in August, Jeb Bush flew from Davenport to Ankeny in a private plane. The next day, after he spent more than four hours bounding around the State Fairgrounds in Des Moines, a top adviser attributed Bush's high energy level to having spent less time in transit.
Maybe that was the problem all along — Jeb was just too high-energy. The new, more subdued Bush, ground down by hours of grueling commercial plave travel, may be just what Republicans want.