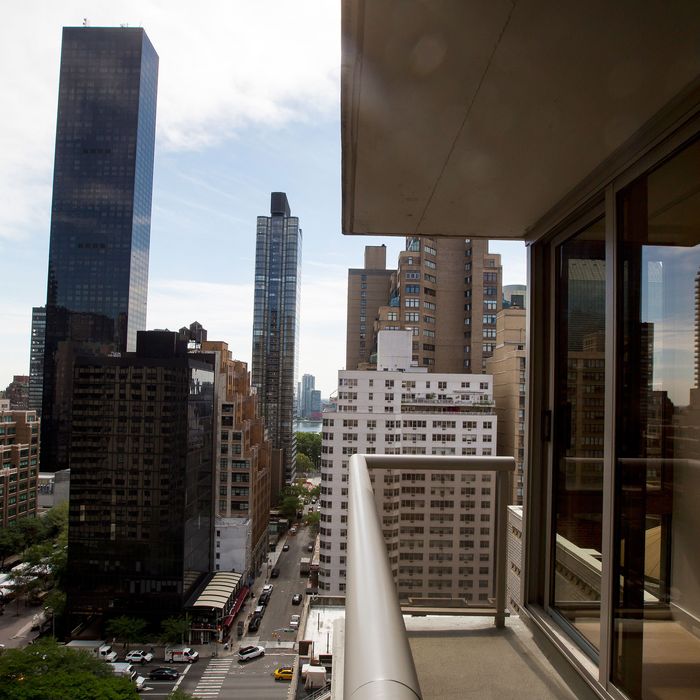 The balcony of an apartment at the AKA United Nations building in New York, U.S.
Photo: Michael Nagle/Bloomberg via Getty Images
Manhattan's real-estate market is beginning to look like the runaway train that won't lose steam, especially in the non-luxury segment. Third-quarter reports released Thursday by brokerage firms show a market still filled with buyers and not enough apartments to sate their appetite. According to the Douglas Elliman survey, there were nearly 10 percent more closings — 3,654 transactions — in the past three months compared to the same period last year, 51 percent of them all-cash deals. (This time last year, an already impressive 43 percent of buyers were going mortgage-free.) The median price rose slightly to just under $1 million — $998,000, to be precise — the highest on record since 2008. 
The market's especially stretched in the million-dollars-and-under market, where supply is at its lowest. Gregory Heym, chief economist at Terra Holdings, which owns both Halstead Property and Brown Harris Stevens, says the absorption rates — the amount of time it would take for all available apartments to sell in a given segment — are at major lows for studios and one-bedrooms in co-ops: 2.6 months and two months, respectively. (For perspective, a normal, healthy market usually has about a six- to nine-month absorption rate, he says.)

So-called starter apartments are selling so fast, they barely make it to an open house. Mike Bennie, head of data at the brokerage firm Compass, says properties priced between $500,000 and $1 million spent about an average of 40 days on the market — measured from the day they officially are put up for sale to when buyers sign official contracts — this last quarter. "It's almost the fastest you can sell a listing," says Bennie, given that it takes nearly that much time for buyers to see an apartment, negotiate with sellers, and have the necessary paperwork looked over by lawyers before a contract is signed. "Anything in that [$500,000 to $1 million] price point is sold almost instantly." (Properties asking less than $500,000 went nearly as quickly, spending an average of 42 days on the market.) On the other hand, the $5 million-and-up segment stands in contrast, taking 91 days to find takers, says Bennie, who describes the two market extremes as a "tale of two inventories."
Indeed, affluent buyers looking for large apartments are primarily the ones who'll find wiggle room in this unforgiving market. They're bound to have more options with new constructions continuing to churn out large, luxury condos (expanding inventory), and have less competition for what's available now that some buyers may be taking a breather given rising worries over the global economy. According to Halstead Property, the average price of three-bedroom co-ops (and bigger) fell 25 percent from $4.184 million last year to about $3.116 million this year; everything else, on the other hand, from studios to one-bedroom co-ops, saw their average prices rise in the same period. (So far there's only one co-op sale over $20 million in the third quarter," Heym points out. "That's a relatively low number. Usually you'd expect at least a couple of those.)

So when will the real-estate landscape finally become scalable for the rest of us? "I don't see any relief, outside of a recession where people have to sell," says Heym. Developers could build more starter condos, but that's not likely happening any time soon, given how expensive it is to build in this city. "It's a serious concern because of land values being what they are," he says. "It's going to be difficult to imagine we can create enough product for the middle of the market."
Banks, which still have tight rules for lending, would also have to start making it easier to get a mortgage, says appraiser Jonathan Miller, who compiled Elliman's report. "I think I've uttered the words tight credit 5,000 times," says Miller. "Inventory won't normalize until credit normalizes, and that's a problem."

Or homeowners will need to start putting their apartments on the market to loosen up inventory, which you'd think they would have already done given how much equity they probably now have thanks to the stratospheric rise in property values. And yet they haven't. Why? In part because upgrading to a larger apartment, which helps create churn in the starter segment, is no longer as easy as it once was. 

For instance, say a buyer owns a two-bedroom bought three years ago for $1.25 million, and now she'd like to unload it and move to a bigger place. She could sell the two-bedroom now for the current median price for that size apartment of $1.647 million, but three-bedrooms are now asking a median of $3.25 million — a leap that's impossible for most people. "Housing prices have been rising for several years, both nationally and locally, [and] wages haven't," points out Miller. "If you adjust for inflation, it's negative." Even if they put down all the equity they've realized by selling their old place, they won't likely be able to qualify for that much higher of a mortgage. 
So what's a typical New Yorker to do? "Most will do nothing until things change, and that keeps inventory low, or they move somewhere cheaper [maybe outside of the city], so they have to give up the lifestyle and the location that they love," says Miller.

There you go.