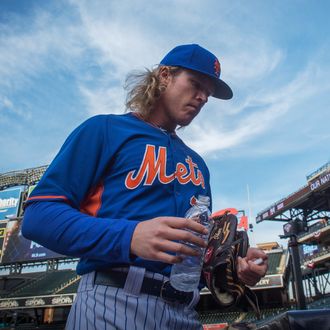 Noah Syndergaard.
Photo: Bryan Smith/Zuma Wire/Corbis
The Mets' starting rotation includes three of the best hard-throwing young pitchers in the big leagues and was supposed to be a major advantage for them entering the World Series. But the Royals' extremely contact-focused lineup is engineered to thwart just that kind of pitching. Kansas City puts the ball in play and doesn't strike out very much — and they hit hard fastballs unusually well. So with the Mets down 2–0 and facing a critical Game 3 at Citi Field tonight, is there anything the Mets can do to adjust? The conventional wisdom has been that beating the Royals means forgetting strikeouts and fashioning a craftier approach. But the Mets aren't starting Bartolo Colón tonight — they're running out another young flamethrower in Noah Syndergaard. Can he manage what Matt Harvey and Jacob deGrom didn't — solving the Royals lineup by making adjustments?
The Mets' staff this year threw far more pitches above 95 miles an hour than any other team in the league, and their big three starters were all among the leaders in pitches thrown over 94 miles an hour. In the NLDS and NLCS, the Mets' four starters threw fastballs that averaged 96 miles an hour, the best in the league. Power pitching like this is generally considered a big plus in the postseason, and through two rounds, it served the Mets well.
But the Royals are a difficult team to simply overpower. Via Will Leitch, not only did they have the best weighted on-base average in the league on pitches over 96 miles an hour this season, they actually hit them better than pitches below 96 miles an hour. (Hard to believe that's even possible, but the stats are the stats.) The Royals also struck out less than any team in the majors this season, and that's bad news for the Mets. Via Fangraphs, hitters who struck out less didn't see their performance drop this season against the four pitchers in the Mets' postseason rotation as much as hitters more prone to striking out.
And so, in an effort to recalibrate their own approaches in the first two games of the World Series, both Matt Harvey and Jacob deGrom threw their fastballs less often than usual against the deep Royals lineup. But neither looked particularly dominant, with neither managing to really strike anybody out (typically their great advantage). In other words, so far Mets starters haven't challenged the Royals with their biggest strength. There's a certain logic to that, considering how difficult the Royals are to overpower. Indeed, through two games, Harvey and deGrom threw 84 fastballs, and Kansas City batters swung at and missed just two of them. Then again, the Royals only recorded four hits off fastballs in the first two games. Which means there's probably an argument to be made, whatever the Fox broadcasters say, that the Mets should go back to what they do best and hope it's good enough even against a team that makes contact as much as the Royals.
But in addition to pitch type and speed, there's also location to consider. Much has been made about how infrequently the Royals have swung and missed so far in the World Series, but looking at Game 2, Jeff Sullivan points out on Fangraphs that the Mets weren't really throwing swing-and-miss pitches. The strike zone here is an approximation, but essentially the Royals spent Wednesday night swinging at balls in the strike zone.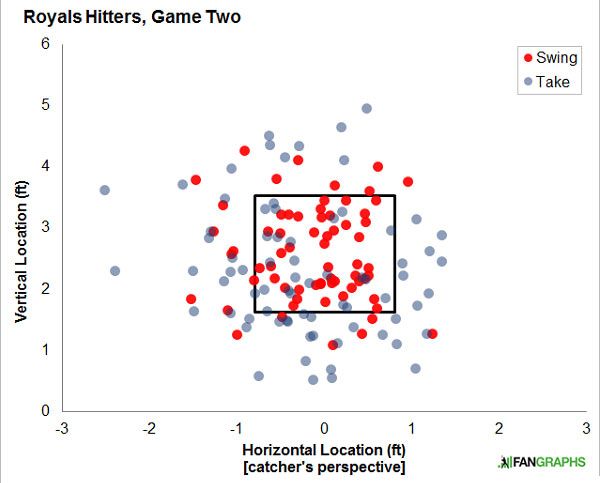 As Sullivan notes, "The Royals swung at a little under half of the Mets' pitches. Of the Royals' swings, an amazing 75% of them were attempted at strikes." A team that makes contact as often as Kansas City simply isn't going to whiff when it sees so many pitches over the plate. Even Terry Collins said after the game that he hoped deGrom could have thrown fewer strikes and made the Royals (who also don't walk much) chase more pitches outside of the strike zone.
That could end up being key to Syndergaard's approach tonight. Locating pitches — and making quality pitches outside of the strike zone — is crucial against a team like Kansas City. But Syndergaard might also have something going for him that Harvey and deGrom didn't: He hasn't been relying quite as heavily on his fastball, as blazing as it might be. Via Brooks Baseball, here's how Syndergaard's repertoire has evolved over the course of the season: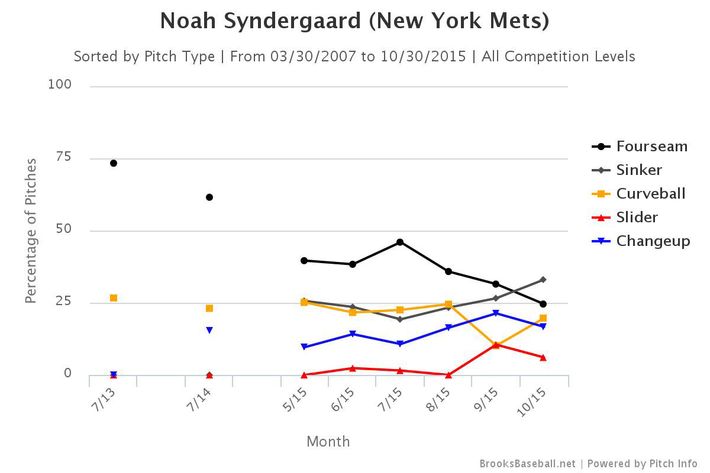 If the game plan against the Royals is to avoid throwing too many fastballs, then Syndergaard won't have to adjust his style the way that the two pitchers who preceded him in the series did. He's already been following that approach. Plus, he's started mixing in an effective slider that, when thrown right, will get hitters to chase at pitches that are very difficult to hit.
Said Syndergaard, whose hard fastball remains his biggest weapon: "They're going against us with their strengths and their strength is how aggressive they are. I can't be too focused on that, because I still have to be able to pitch to my strengths. I was able to watch Matt, deGrom and see how they approach their hitters, and I saw how aggressive they were, and devised a game plan for myself." Syndergaard has also hinted that he has "a few tricks up [his] sleeve" for Game 3.
And so perhaps even against the relentless, contact-making Royals lineup, Syndergaard can use his secondary pitches to complement a fastball that can hit 100 miles an hour, without having to change his approach very much. It's a lot of pressure for a pitcher, rookie or otherwise: A loss tonight would put the Mets down 3–0, with the inexperienced Steven Matz scheduled to pitch in Game 4.