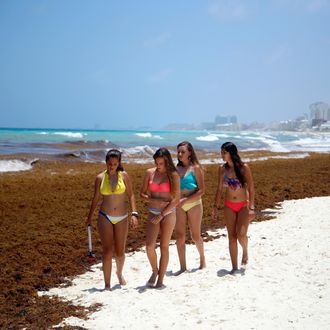 Photo: Israel Leal/AP/Corbis
A monstrous mat of smelly seaweed has covered beaches from Barbados to Belize, and it is seriously threatening the region's tourism economy. It's the worst bloom in history, scientists say. 
Sargassum — the vine-y, brown seaweed in question — started washing up on Caribbean beaches this summer and has only gotten worse since. Once beached, the seaweed piles up in mounds that can reach four feet high and rot, making a horrible odor that attracts flies and repels beachgoers.
The exact cause of this year's supersize sargassum bloom isn't known, but theories range from altered ocean currents caused by climate change to the long-standing link between ocean-choking algae blooms and fertilizer runoff from farms. Chuanmin Hu, a professor of optical oceanography at the University of South Florida who used satellites to track the seaweed, said this year's bloom was the worst in history. He calculated that there were 12,300 square miles — about the size of Maryland — of sargassum blanketing the ocean in July.
Mexico's coastline draws 10 million visitors and $8 billion in resort-related revenue a year that is threatened by the algal invasion. "Beaches are what we sell to the whole world and what we depend on, directly or indirectly, for all our income," said José Eduardo Mariscal de la Selva, the director of Cancún's maritime department.

Since July, Mexico has committed more than $9 million to clearing its valuable waterfront of the scourge. To clear one popular stretch of beach, the government of Cancún offered petty criminals a way out of the drunk tank in exchange for their help with its seaweed problem. Over time, they ended up clearing 500,000 cubic feet of seaweed — more than 1,000 truckloads. The collected mass can be used to shore up sand dunes or be processed back into fertilizer.
The Mexican navy sent its oceanographers out to try and track the weed while it is still at sea as a first step to keeping it from reaching beaches. There are plans to use hydraulic pumps or put up floating barriers to stave off the sargassum, but so far they are only theoretical.