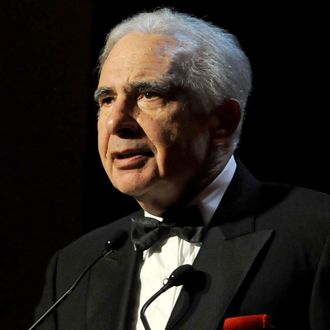 Photo: CLINT SPAULDING/PatrickMcMullan.com
Billionaire investor Carl Icahn announced this morning that he had a new plan to "end the crippling dysfunction in Congress."
Like many people before him who have tried to vanqish dysfunction — or just Washington writ large — he had the novel idea of starting a super-pac. And he's flooding it with $150 million, far more than any of the presidential candidates' super-pacs have been able to raise so far.
Icahn's first goal is fighting for one specific legislative change — blocking "corporate tax inversions" —  that would probably help at least one company he happens to invest in: Apple. He wants Congress to add language to the highway funding bill currently being debated that would stop U.S. companies from relocating in order to get lower tax rates.
"It's a no-brainer for Congress to pass a Highway Bill that includes international tax reform," he wrote in a missive titled "Letter Discussing Desperately Needed Legislation," sent to several congressional leaders, "because, if it does not, many of our companies, currently holding $2.2 trillion abroad, will invest this money outside the United States rather than pay the double tax we are now foolishly demanding, and which they will obviously not pay."
"I am not exaggerating when I say if you do not," he said, maybe exaggerating a little, "our country runs the risk of losing its hegemony and those of you who are in power will have only yourselves to blame."
The investor doesn't often get involved with politics, but when he does it usually has something to do with money.
The activist investor told The Wall Street Journal he was thinking of building his own very expensive Citizens United–inspired megaphone in September. Icahn had also noted that the White House could benefit from some financial know-how last month, and that he was happy to help. "So we need a president that can move Congress," he said in a video, "and I think Donald Trump could do it. I disagree with him on certain issues, and certainly would talk to him more, but this is what this country needs — somebody to wake it up."
When Trump asked him to be his presumptive Treasury secretary, Icahn accepted. 
In 2008, after noting, "I don't normally get involved in politics, but this time I am," Icahn confessed that he thought the Democratic presidential nominee would be a "terrible" leader. "I don't think Obama really understands economics," he told a crowd of investors. In 1990, Icahn gave $38,000 to unsuccessful Democratic New York State comptroller candidate Carol Bellamy, who previously worked at Morgan Stanley. He was interested in having the state make changes to how it ran its pension fund. Bellamy's Republican candidate told the New York Times, "Our job is not to do what is good for Carl Icahn; he can't get that into his head – that's his problem."
In 2007, Icahn gave money to Rudy Giuliani's presidential exploratory committee; he has also donated to Senator Chuck Schumer and former senator Hillary Clinton in the past — however, the Journal notes that he only gave money to the current Democratic front-runner "because a friend asked him to do it."
He calls himself a "centrist," by which he probably means "pragmatist," at least in the age of right-wing ideologues who are sometimes arguably bad for big business. "A strong centrist movement would change the paradigm," he told the Journal last month, successfully managing to utter a sentence that means absolutely nothing but also shows that he has the qualifications and special sauce to waste hundreds of millions of dollars in an effort to try and force Washington to change.
And why is he getting involved now? As he told CNBC, what else is he going to do with all of his money?
"I should be getting more involved," he said. "I'm going to try to do it. I've made a great deal of money. I'm not going to spend it all in my lifetime."