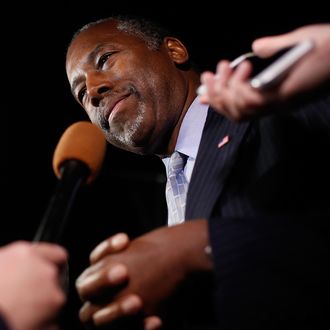 Photo: Win McNamee/Getty Images
Ben Carson is beating Donald Trump for the first time in Iowa, according to a new poll among likely Iowa Republican caucusgoers — even though he's taking a break from campaigning.
Carson is officially the new state favorite, leading with 28 percent over Trump's 20 percent. Senator Marco Rubio follows with 13 percent, and then Senator Ted Cruz with 10 percent, according to a Quinnipiac University poll Thursday.
The new lead comes at an interesting time for Carson — right at the beginning of his two-week tour promoting his new book, A More Perfect Union. Critics said taking a break in the middle of the campaign would be disastrous for Carson, but in conservative Northwest Iowa, some say they get it.
"He needs to do that, he needs a lot more name-brand recognition, obviously Trump has that recognition," chairman of the Carroll County GOP Craig Williams told Politico. "I don't think [the book tour] really hurts him that much, he just needs to get out there."
Maybe it's helping. And it's not like he's gone quiet, proposing this week that he'd like "to monitor our institutions of higher education for extreme political bias and deny federal funding if it exists."
A September Quinnipiac poll showed Trump with a six-point lead over the neurosurgeon, but Carson's got a new lead, and it comes partly from his support among Iowa women: 33 percent of female Republicans prefer Carson, and just 13 percent would choose Trump. Evangelicals also prefer Carson, with 36 percent supporting him over Trump's 17 percent.
In response to the news, Trump retweeted a French supporter's bon mot: "Too much #Monsanto in the #corn creates issues in the brain?" Trump has since deleted the Tweet, saying that an intern "accidentally did a Retweet."
Maybe Iowans like Carson because, well, he doesn't imply they have corn-addled brains. While they side with Trump on issues like immigration, only 49 percent of Republican Iowans think he actually cares about their well-being, the poll revealed, but a whopping 87 percent said they think Carson cares about them.