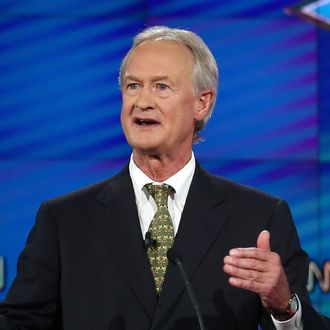 Future Trivial Pursuit answer Lincoln Chafee.
Photo: Joe Raedle/Getty Images
Lincoln Chafee, one of the guys on the Democratic presidential debate stage who was not Bernie Sanders, is dropping out of the Democratic primary today. He spoke at the Democratic National Committee's Women's Leadership Forum on Friday morning — he was given one of the early slots. 
The announcer mispronounced Chafee's name when introducing him. When he said he was dropping out, there was a smattering of "aww"s from the audience. 
He added, "I would like to take this opportunity one last time to advocate for a chance be given to peace."
It was the good-bye that you probably could have expected for a candidate who was asked by Wolf Blitzer last week, "So, at what point will you drop out?" and was reusing stickers from his 2010 gubernatorial campaign to save money. The candidate hadn't been able to campaign very often, but he did drive himself to New Hampshire from his house in Rhode Island quite a  few times to meet with voters.
The former Rhode Island governor and senator is polling at 0 percent, he has only ten major donors, and his campaign has raised about $30,000. He's the third Clinton rival to drop out of the 2016 race this week, after Joe Biden and Jim Webb. We'd say that that, coupled with her solid Benghazi testimony, gives Clinton more than enough reason to call up Senator Barbara Mikulski and "go drink something unhealthy."