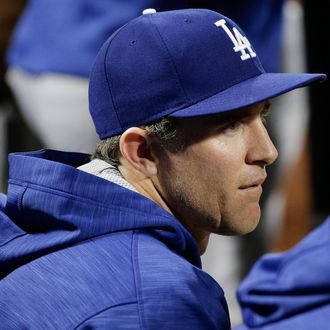 Chase Utley.
Photo: Julie Jacobson/AP/Corbis
The first home Mets playoff game in nine years went pretty swimmingly last night, and with a win tonight Terry Collins's club can finish off the Dodgers and punch their ticket to the NLCS. Just as he was last night, Chase Utley will be eligible to play in tonight's game four, as the appeal of his suspension for a vicious game-two slide reportedly won't be heard until Monday. That means he'd also be eligible to play in a winner-take-all game five in Los Angeles on Thursday. Of course, the Mets would very much not like the series to get that far.
Utley isn't in the L.A. starting lineup that will face rookie Steven Matz tonight. Like the three Mets starting pitchers before him, Matz will be making his first career postseason start. But even in such a young Mets rotation, Matz is considered the inexperienced one. Matz, 24, has appeared in just six big-league games, all of them starts. After his much-hyped debut, in which he pitched 7 ⅔ strong innings and helped himself with three hits and four RBI on June 28, Matz finished the season with a 4-0 record and a 2.27 ERA, albeit in a limited sample of just 35 ⅔ innings. The Long Island native was sidelined after his September 24 start with back spasms, but he pitched a simulated game last week and reported no health issues.
The Dodgers, meanwhile, will send one of the most accomplished pitchers of his generation to the mound to try to extend their season. Clayton Kershaw, whose spotty postseason history has been well-documented, will be pitching on short rest, allowing the Dodgers to use just three starting pitchers in the series. He has some experience starting on short rest: Last year, he pitched game four of the NLDS against St. Louis, and allowed three runs in six innings, striking out nine and taking the loss. (All three runs came on the 102nd and final pitch he threw in that game, a homer by Matt Adams.) In 2013, he started game four of the NLDS against Atlanta, throwing six innings without allowing an earned run in a Dodgers win.
Of course, the Mets should have plenty of confidence that they can beat Kershaw; after all, they did it in game one on Friday night, when the three-time Cy Young winner took the loss against Jacob deGrom.