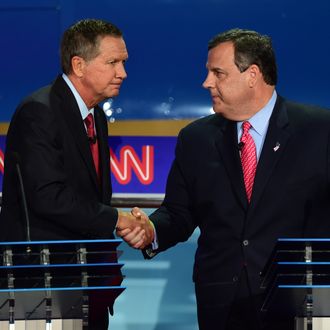 John Kasich shakes hands with Chris Christie during the GOP presidential debate on September 16, 2015.
Photo: FREDERIC J BROWN/AFP/Getty Images
Now that we've seen a 2016 presidential debate that isn't bizarrely overpopulated, it's going to be strange to go back, but the CNBC Republican debate next Wednesday will look a lot like the previous GOP events. The network's cutoff for the main debate was an average of at least 3 percent in several recent polls, and there was concern that Mike Huckabee, Chris Christie, John Kasich, and Rand Paul wouldn't make it. On Wednesday, CNBC revealed the debate lineup, and they all qualified — though it looks like Christie, Kasich, and Paul had to take advantage of the network's promise to round up averages above 2.5 percent. (Huckabee had a whopping 3.56 percent.)
The Republican National Committee initially wouldn't commit to an undercard debate, but it's still on. Before the main event at 8 p.m., Rick Santorum, Bobby Jindal, George Pataki, and Lindsey Graham will face off at 6 p.m. Once again, former Virginia senator Jim Gilmore failed to make the cut, as he's polling below one percent — but somehow, he's still technically in the race and Scott Walker isn't.