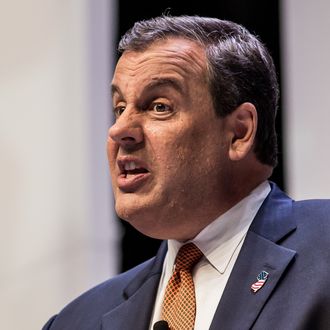 Photo: Sean Rayford/Getty Images
Earlier today, Gawker and CNN reported that New Jersey Governor Chris Christie had committed one of the great sins of Northeast Corridor rail travel this morning: making noise on an Amtrak "quiet car." According to a witness that submitted the story and photos to both news organizations, the GOP presidential candidate had boarded an Amtrak train from D.C. to New York, entered the sanctified quiet car, then proceeded to yell at his security staffers over some kind of seating mishap before making some loud phone calls. After five to ten minutes of this, a conductor, purportedly alerted by irate quiet car passengers, approached Christie and asked him to relocate, which Christie then did.
However, another passenger, Katie Klabusich — who says she was sitting at the same table as Christie — is now contradicting that report. In a series of tweets, the liberal writer and activist says that Christie's behavior was misrepresented by the other passenger. Here is her pieced-together pushback:
Listen, I'm no Chris Christie fan, but the Gawker story isn't close to accurate. He was sitting at my table. Christie was super courteous and possibly the least intrusive in-public phone person ever. Obviously he was running late coming from a thing and got on the first open car, not realizing it was the quiet car because [it is] a different location on [the] express train. When the conductor came by to check the tickets he just said, "Sir, this is the quiet car." Christie had the same reaction as anyone: "You're kidding. It's the quiet car? Alright," and to the phone, "I gotta go, I'm in the quiet car. Call you back." Did he appear annoyed? Sure. Apparently [he was] having a shit logistics day and someone fucked up. Was he screaming, causing a scene? Hardly.
(For the uninitiated, the fiercely-protected Amtrak quiet car is supposed to be a zen-like space where loud conversations and phone calls are prohibited so that passengers can enjoy their e-books and crappy Wi-Fi in peace.)
Reached for comment by CNN, a Christie spokesperson confirmed that the candidate had boarded the quiet car by mistake: "After breaking the cardinal rule of the quiet car, the Governor promptly left once he realized the serious nature of his mistake and enjoyed the rest of his time on the train from the cafe car. Sincere apologies to all the patrons of the quiet car that were offended."
Christie is currently polling around 3 percent in the GOP primary race, but did barely make the cut to not get bumped down to the kids' table/quiet car for the next debate.
This post has been updated throughout to reflect Ms. Klabusich's account of the incident.