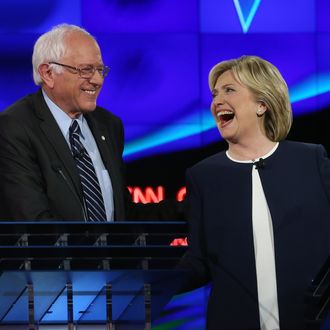 Bernie Sanders and Hillary Clinton in happier times.
Photo: Joe Raedle/Getty Images
Floating your rival's name as a potential veep is a classic messaging trick that can be found in any competitive presidential campaign. Scott Walker did it with Marco Rubio. Rick Santorum and Newt Gingrich did it to each other (ew) in 2012. Hillary Clinton did it in 2008 with Barack Obama. It's a sufficiently well-established ritual that long-shot candidates do it ironically to the front-runners. It's a way of subtly undermining your competition and wooing his or her supporters to your side.
But when Bernie Sanders did it to Hillary Clinton, Clinton's surrogates began flipping out and calling him sexist. Christine Quinn (a member of Clinton's New York Leadership Council and a fund-raiser for her campaign) says, "Seriously? Seriously? The absurdity of that statement almost merits no response. How arrogant and sexist can you be? It's not OK to let people with a long progressive record get away with being sexist." EMILY's List president Stephanie Schriock called it "condescending insults by a team who knows better."
I think the evidentiary standards for these accusations might be a tad low.