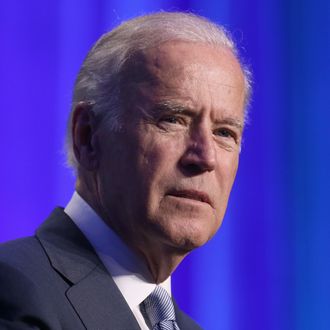 Joe Biden.
Photo: Chip Somodevilla/Getty Images
Joe Biden "confidants" claim the vice-president could make his decision about entering the 2016 race as soon as this weekend, but if you can't wait that long, here's another anonymous clue about his plans. A Democratic National Committee staffer tells The New Yorker's Ryan Lizza that this week Biden representatives met with DNC staffers to go over the boring details of how one goes about running for president. The other campaigns have already met with the DNC, and Lizza says this isn't the kind of thing you sit through unless your boss is serious about entering the race:
There it is! Irrefutable evidence that Biden is plotting a run. Unless, of course, he's just "gathering the necessary information" to make his final decision.
But then there's this other Biden tidbit: The Draft Biden super-pac has agreed not to run this 90-second ad that describes how Biden's life was shaped by the loss of his first wife and daughter in a 1972 car accident.
The spot uses audio from Biden's Yale University commencement speech in May, but earlier this week a source close to Biden told the L.A. Times that the vice-president, "has seen the ad and thinks the ad treads on sacred ground and hopes they don't run it." The ad was set to start airing on CNN before Tuesday's Democratic debate, but Brad Bauman, a spokesperson for Draft Biden, told the New York Times, "We will be respecting the vice-president's wishes."
Clearly, Biden wants to take control of his campaign messaging … or just didn't like the ad.