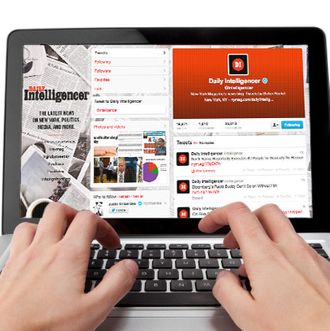 Welcome back to the New York Magazine Competition. On alternate Mondays, we lay out a challenge and offer sample responses. Enter in the comments section or on Twitter with the hashtag we've provided, and the editors will select a winner. Criteria are highly subjective, but heavily retweeted and favorited posts will have an advantage. The prize is a year's subscription to New York in print or a two-year subscription to the iPad edition (winner's choice). Full rules are here.
COMPETITION NO. 58: "NEW YORK AUTUMN COUPLETS." Please offer a two-line poem about New York in fall. For example:
Murray Hill girls, their manis so nice,
Clutching their cups of pumpkin spice.

In chilly Times Square, as desnudas say brrr,
The Elmos lay on some extra fur.

Last year, as November neared,
Half of Brooklyn grew a beard.
Enter on Twitter with the hashtag #newyorkautumncouplets, or in the comments thread below, by October 21.
RESULTS OF COMPETITION NO. 57, "COMIC CON SPEECHES," in which you were asked to write a line from a celebrity's imagined speech to the fans at New York Comic Con.
HONORABLE MENTION TO:
Nathan Fillion: "The Silver Surfer? Shiny!" 
—BobKopac
Kim Kardashian: "As someone who has made millions selling a story about imaginary abilities and accomplishments, its an honor to be recognized tonight by my peers." 
—OldYeller62
Matt Harvey: "Who the hell is this Bruce Wayne? I'm the Dark Knight." 
—dchiciak
Malala Yousafzai: "Get a life."
—RustyShackelford
Heidi Klum: "And sometimes you're ALL out."
—ggreg
Rand Paul: "And now to introduce my running mate in the 2016 election… Princess Twilight Sparkle!"
—@JoelStrewth
Oprah: ""You get a BB-8!  You get a BB-8!  You all get a BB-8!!!"
—nilo
Donald Trump:  I hope all you aliens here today are here legally.
—rmtmiller
Ron Paul: "Lightsabers don't kill people; people kill people." 
—3North  
Batman and Robin:  We're engaged!
—rgqueen
Pat Kiernan: "I am just a mild mannered reporter. On an unrelated matter, I have to run – I hear a baby crying out for its mother."
—AlienIncognito
Pope Francis: "Yes, there is someone I know very well who could beat Superman in a fight!" 
—Lexxman
Bill de Blasio:  "I'll be there in a flash, I promise."
—BambooLounge
AND THE WINNER IS:
Edward Snowden: "Before I begin, I just want to take a minute to reveal all of your secret identities." 
—ragman1940