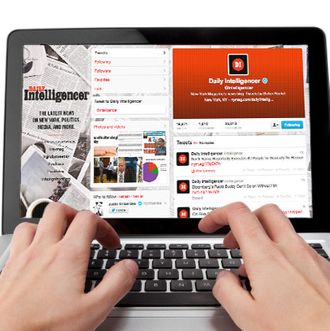 Welcome back to the New York Magazine Competition. On alternate Mondays, we lay out a challenge and offer sample responses. Enter in the comments section or on Twitter with the hashtag we've provided, and the editors will select a winner. Criteria are highly subjective, but heavily retweeted and favorited posts will have an advantage. The prize is a year's subscription to New York in print or a two-year subscription to the iPad edition (winner's choice). Full rules are here.
COMPETITION NO. 59: "SWAP A LETTER, RUIN A SONG." Please offer a song title spoiled by a one-letter substitution. For example:
NORWEGIAN FOOD

IF I HAD A HUMMER

TAKE THE "G" TRAIN

BALL ME MAYBE

TINY CANCER
Enter on Twitter with the hashtag #swapaletterruinasong, or in the comments thread below, by November 4.
RESULTS OF COMPETITION NO. 58, "NEW YORK AUTUMN COUPLETS," in which you were asked for a two-line poem appropriate to the city and the season.
HONORABLE MENTION TO:
New York in autumn, with its sudden cold snaps
Brings purpose to all those baristas' wool caps.
—@DAbruzzoTweets  
Too late for summer peaches,
Less crowded at the beaches.
— j_son  
Late October and all is well:
The Wall Street station is no longer hot as Hell.
— Periclescrystal  
A certain New Yorker, short-fingered, vulgarian,
Is trolling the country as a mock authoritarian.
— dc10001  
Back home, there'll be turkey and pumpkin pie.
Our Bushwick Thanksgiving will be vegan Thai.
—3North  
The first leaf that falls—
That takes balls.
—DanielGalef  
See balloons deflate at the Macy's Parade,
Watch the Jets and Giants in the standings fade.
—rbison  
The fall foliage sure is swell—
OMG! Trump's hosting SNL.
— MC5  
Enjoy fall while it lasts, because sooner or later
Snowplows will ignore both you and your neighbor.
— yanksfan6129  
Time for soup and hot grilled cheese, 
Goodbye for now, Uncle Louie G's
—nycityofmind  
The Mets are in a playoff,
And I don't have a day off.
—clippityclop  
Fall's here, as you can tell by the leaves,
Except oh wait, it's still 70 degrees.
—FlirtySanchez  
Time to find a boyfriend and grow out the bush.
I'm glad he also likes the bigger tush.
—haunt_fox  
AND THE WINNER IS:
It is so cold on the Upper East Side,
I will not walk but will pay for a ride.
— ‏@skunksublime