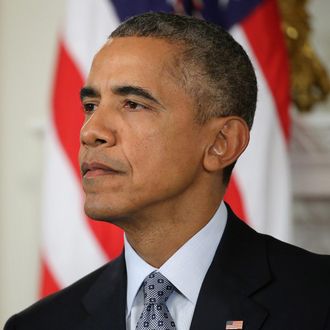 Photo: Chip Somodevilla/Getty Images
Confirming reports leaked to the press yesterday, President Barack Obama will keep at least 5,500 U.S. troops in Afghanistan through the end of his presidency. Obama had previously promised to extricate America from its longest war by the end of his presidency. 
Obama will announce his new plan from the White House Thursday morning, senior administration officials told the AP. He is expected to call for the current force of 9,800 troops to remain in Afghanistan through most of next year, before gradually drawing down to a 5,500-member force in 2017.
During his reelection in 2012, Obama promised to end the war in Afghanistan in 2014. Then, in 2014, he revised that, leaving 10,000 troops there through the end of his presidency in 2016, after which they would all depart, save a small force dedicated to the protection of the American embassy in Kabul.
This is a revision to that revision. The Taliban has made significant advances in the past few months — a recent U.N. report found that the group's insurgents are more widespread in Afghanistan than they were at any time since 2001. This resurgence was underlined by the late-September capture of Kunduz, the largest city to fall under Taliban control since the U.S.-led invasion deposed its regime in 2001.
As of October 1, 2015, 2,215 U.S. troops had been killed in Afghanistan, according to the Defense Department. The war has cost American taxpayers over $1 trillion dollars, according to a report by the Financial Times and independent researchers.
The next president will have to decide what to do with our troops in Afghanistan.