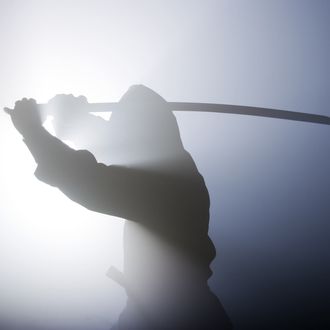 Photo: Eduardo Antonio Fuentes
Just before noon on October 27, Angel Maldonado, a 19-year-old Quinebaug Valley Community College student who moved to Connecticut from New York earlier this year, was going to walk his three dogs when, as he recounted to the Norwich Bulletin: "I saw a shadow and the doorknob jiggling. So, I grabbed the samurai sword from my room and opened the door."
He confronted who police say was a 30-year-old homeless man. "He started to try and push his way in and I slashed him." The burglar bled just enough for Maldonado to have a good story; he then fled the scene into the hands of police a short distance away.
Samurai swords are both a potentially deadly weapon as well as a sexy-dorky lifestyle accessory dating back to well before Danai Gurira on The Walking Dead or, for that matter, Uma Thurman. And while they sometimes are used for evil (see: Rockaways man who stabbed his stepfather last year) or to wreak havoc (see: the man who attacked someone in the Holland Tunnel in a road-rage incident this summer)*, they are also sometimes used, as with Maldonado, in legitimate self-defense: Earlier this month, Karen Dolley, a 43-year-old woman from Indianapolis held a would-be burglar at bay with a sword during a nighttime attack.
Dolley credited her cool under pressure to training she received as a former member of the Society for Creative Anachronism.

Other notable instances:
May 20, 2013: A man in Fresno kills one of the two men attacking his home with a samurai sword.

November 28, 2012: A woman from San Francisco sets a trap for a burglar who had been preying on her neighborhood for weeks. The perp was subdued with bear mace and a samurai sword.
March 27, 2012: An employee of a pirate-themed bar in Florida subdues a burglar with a sword used to decorate the establishment. The employee himself may not be dorky, but his job definitely was.  
* Due to an editing error, the road-rage sword incident from this summer was originally mischaracterized.