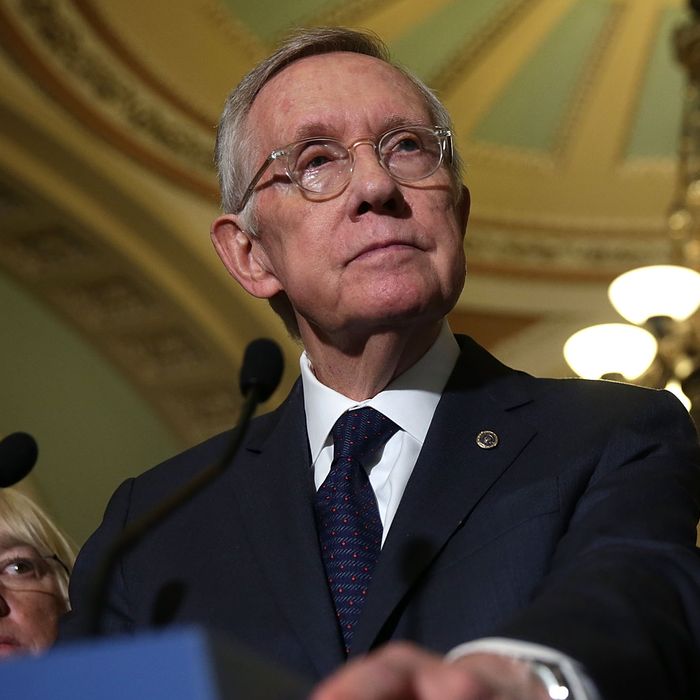 Senate Minority Leader Harry Reid speaks after the weekly Democratic Policy Luncheon as Senators Patty Murray and Charles Schumer listen on September 9, 2015.
Photo: Alex Wong/Getty Images
One telling sign of where the federal government stands on gun control in 2015 is that the plan Hillary Clinton rolled out on Monday describes what action she'd like Congress to take, and what she intends to do when those proposals go nowhere. "If Congress refuses to act to end this epidemic of gun violence, I'll take administrative action to do so," Clinton tweeted.
In the immediate aftermath of last week's mass shooting at Oregon's Umpqua Community College, several members of Congress issued statements supporting stricter gun-control measures, but with the legislature focused on showdowns over Planned Parenthood and various fiscal issues, it seemed highly unlikely that lawmakers would take up the issue in any serious way.
Yet, Minority Leader Harry Reid says that's exactly what he intends to do. In a passionate speech on the Senate floor on Monday, Reid read the names of the victims in the Oregon attack and said he's reaching out to other Democratic senators to figure out how they can move forward on strengthening background checks, even with Republicans in control of both houses. If "we don't take action, we are equally responsible for innocent deaths as the sick individuals who plot and carry out these horrific measures," Reid said, according to Politico. "One thing is clear: To pass background checks, we need Republicans to stop acting as puppets of the NRA."
The reality "of gun violence is not only shocking, it's pathetic," Reid continued. "Let's not mince words about who would stop us from passing background checks: Republicans that wage a right-wing ideological crusade fashioned by the NRA and the Gun Owners of America. These two organizations are in a scramble to see who can raise the most money."
Speaking to WBGZ Radio on Monday, Senator Dick Durbin, the minority whip, complained about the NRA's "death grip" as well, and said Congress needs to consider new gun measures. "I've rejected the premise that we should no longer try," Durbin said. "We've got to bring these measures to the floor. We've got to bring them to a vote, and the people of the country have to decide when it comes to their members of Congress and United States Senators, they can look at that vote, and if the issue of gun violence is important to them, they can make a decision in the next election."
It's possible the Democratic leadership just wanted to take some shots at Republicans and the NRA, but according to Politico, this week the caucus is expected to discuss whether to introduce a new background-checks bill. That legislation may also incorporate a recent proposal from Minnesota senator Amy Klobuchar that would make it more difficult for domestic abusers to obtain firearms.
Whether new gun legislation would stand any chance of passing is another question. The bipartisan bill from Senators Pat Toomey and Joe Manchin to strengthen background checks in the wake of Sandy Hook failed by five votes in April 2013. As the Washington Post notes, five of the Democrats who voted in favor of the bill lost their seats to Republicans backed by the NRA.
Manchin's office said last week that there are no plans to reintroduce that legislation, and it's hard to see how a similar bill could pass. But there may be other ways for Congress to tackle gun control. Taking a cue from Illinois and South Carolina, where state legislators recently increased restrictions on domestic abusers who attempt to buy firearms, Klobuchar framed her bill as a domestic-violence issue, not a gun-control measure. "I have not given up hope by any means on these more pragmatic focused approaches," she said in July, adding, "you have a state as red as South Carolina doing something on gun violence related to domestic violence."
Similarly, a bill proposed in August by Senate Majority Whip John Cornyn, who has an A+ rating from the NRA, targets a specific, dangerous group of potential gun buyers. The legislation, which is backed by the NRA and the National Alliance on Mental Illness, aims to improve mental-health treatment and encourages states to send mental-health records to the federal background-check database (gun-control advocates argue the bill would actually make it easier for certain mentally ill people to obtain firearms). Cornyn hasn't discussed the legislation in recent days, but his office said they're still looking for supporters and may introduce a companion bill in the House.
Honing in on specific issues in the gun debate also changes the way the public sees the issue. As the Post's Philip Bump pointed out, while the oft-repeated statistic that 90 percent of Americans support background checks for all gun purchases is true, when Americans are asked if they support stricter gun laws in general, they split on partisan lines and support for gun control drops below 50 percent.
So there's hope that the current Congress could pass some sort of legislation that addresses gun violence, but it may depend on how the issue is framed. And while Democrats may be encouraged to hear tough talk on the issue, obviously Reid's attack didn't go over well with Republicans. "We'll see whether the people who have no solution, who just want to keep talking about guns, are willing to meet us halfway," Cornyn responded. "If somebody's got a better idea, great. But if they're just going to rail about guns and violence without offering solutions, that's not good enough."