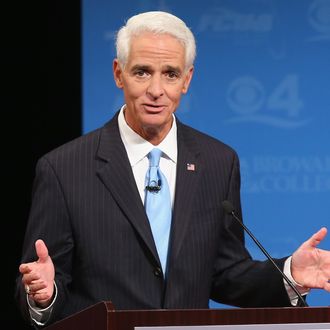 Photo: Joe Raedle/2014 Getty Images
Charlie Crist — who has run for office eight times in the past 25 years, winning half of the time — announced today that he is still in the market for an elected office in Florida. The former Republican governor lost a close gubernatorial race last year as a Democrat. A few years earlier, Crist lost a Senate race to Marco Rubio; he later wrote in a book about the election, "Winners have more friends than losers do."
Now the soon-to-be-perennial candidate is trying to win a House seat. 
Crist — who told voters last year, "The definition of insanity is doing the same thing over and over again and expecting a different result" — originally said that he was taking an electoral break in 2016, but he either got antsy and bored or excited about a state Supreme Court decision that made his district, an open seat, far more favorable to Democrats than it once was. "Public service is in my heart," he explained at his announcement. "I can't help it. I guess that's fairly obvious." 
Regardless of how Crist eventually fares, he made it clear today that his most loyal campaign booster, his small, ever-whirring fan, would also be making a return on the trail. 
If Crist fails to win — joining "That guy who dressed like a vampire" on the list of people who have lost House races in Florida — and is forced to put his congressional dreams in the junk pile with his gubernatorial and Senate ambitions, there are hundreds of local races waiting for him. Charlie Crist for tree warden, 2020? Or maybe Crist could challenge Scott Brown for a county coroner position in New York? 
The possibilities are endless.