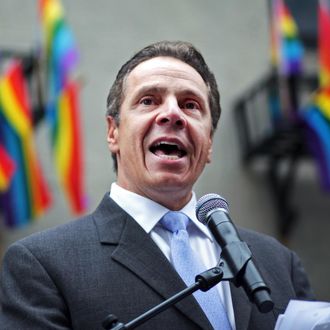 New York governor Andrew Cuomo.
Photo: Yana Paskova/Getty Images
On Thursday night, Governor Andrew Cuomo announced that he'd added "gender identity" to the state's anti-discrimination rules at a dinner for the Empire State Pride Agenda, legally protecting transgender people from bias. The executive action comes after the Gender Expression Non-Discrimination Act recently failed to pass the State Legislature. Cuomo has been a longtime advocate of the perennially stalled legislation, better known as GENDA. In 2011, he also got the state to legalize same-sex marriage.

GENDA protections sought to expand upon New York State's Human Rights Law of 1945. That law protects individuals from discrimination on the basis of "age, race, creed, national origin, sexual orientation, sex in areas such as employment, housing, public accommodations, education, and credit." Adding protections on the basis of "gender identity and expression" was the aim of advocates, led by the Pride Agenda.
While New York City put transgender protections on the books back in 2002, Cuomo's regulation will extend the protections statewide. ESPA estimates that 40 percent of the state's residents live in areas lacking such coverage, where a majority of transgender individuals have reported discrimination and, in instances, physical violence for their gender identity.
The policy brings New York in alignment with 18 other states that have nondiscrimination laws. Transgender individuals will now be able to file discrimination claims with the state attorney general or courts, if they wish to exact damages or punitive relief. 
The conservative group New Yorkers for Constitutional Freedoms promised a "full-court press against this proposed regulation, both in the court of public opinion and—if necessary—in a court of law."