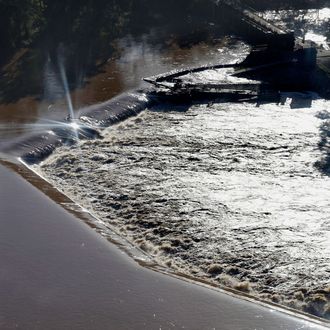 Floodwaters rush over a diversion dam in Columbia, S.C.
Photo: Chuck Burton/© Corbis. All Rights Reserved.
The rain stopped pounding South Carolina early this week, but floods still threaten many parts of the state. The death toll rose to 19 across the Carolinas, after officials found the bodies of two men who had gone missing Wednesday — a truck carrying five workers drove around a barrier and was swept off the road where parts of the pavement had washed away. Rescue teams are also scouring remote parts of the state to make sure no people are left trapped inside their homes.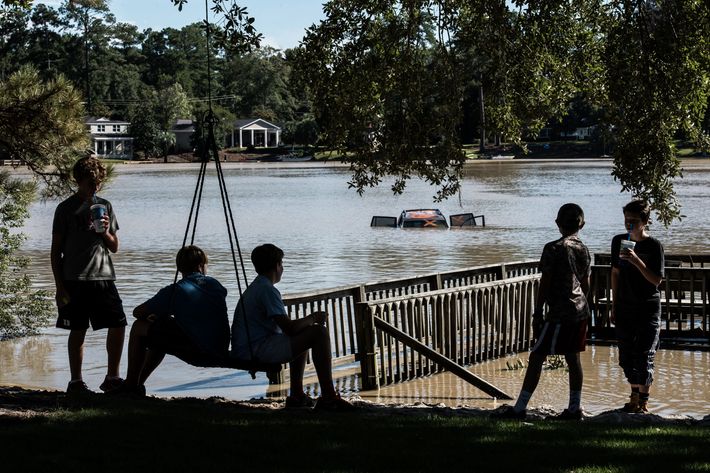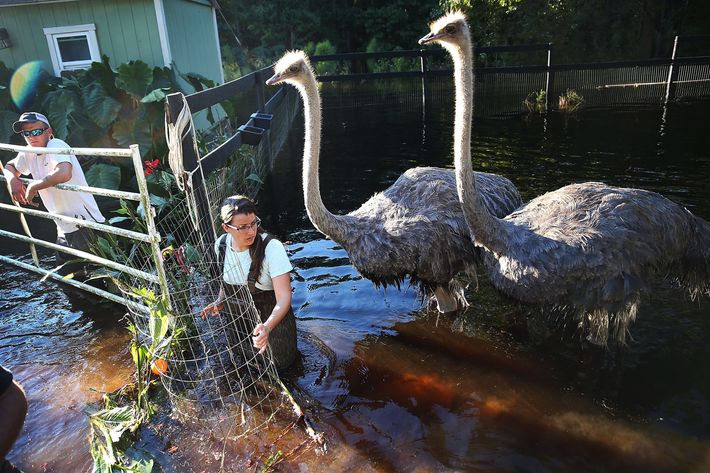 Fourteen dams have been breached by the rushing floodwaters, and 62 at-risk dams are still being monitored. Certain towns could still face evacuation orders, and South Carolina governor Nikki Haley said yesterday that the threat of rising waters would persist for at least another 24 to 48 hours. The low-lying coastal areas are especially imperiled as floodwaters sweep toward the ocean.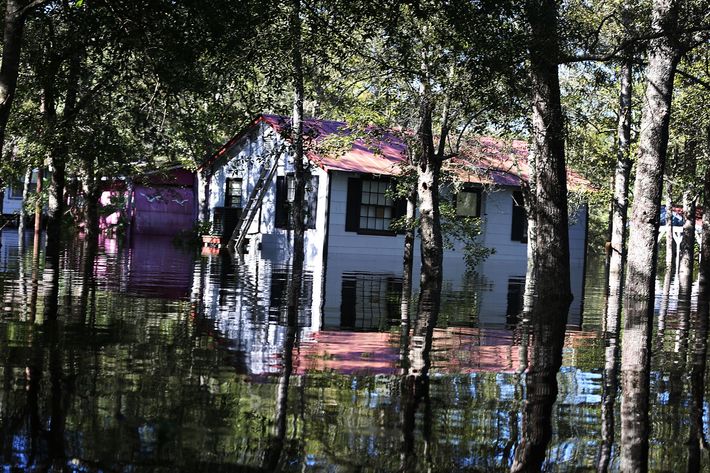 Meanwhile, emergency crews are dropping sandbags and rocks as stopgap measures to reinforce the dams that have fallen away or are at risk of being overwhelmed by the deluge. The Los Angeles Times reports that the overflow of Gills Creek watershed, a 70-mile-waterway system that runs through Columbia, among other cities, wreaked much of the havoc in the area. Residents near Gills Creek, where floods rose nearly to homeowners' rooftops, said residents hadn't been warned before the storms of the possibility that the dams could breach. "This has taken most people completely by surprise," one resident told the Times. "There just wasn't a full appreciation of the vulnerability of these dams before this rain."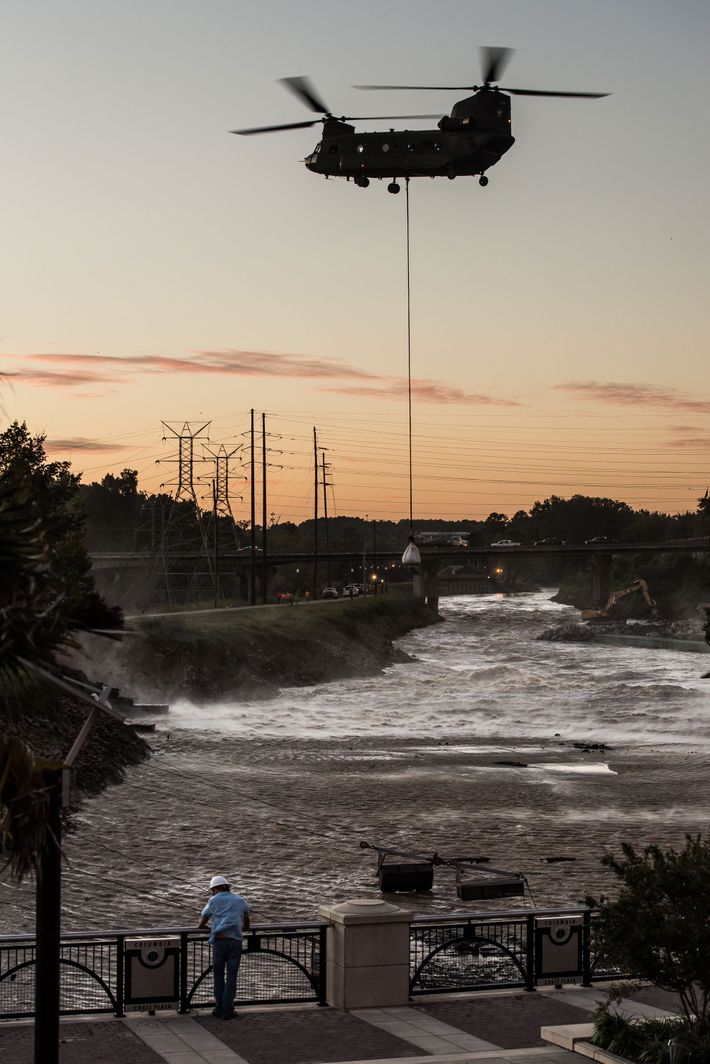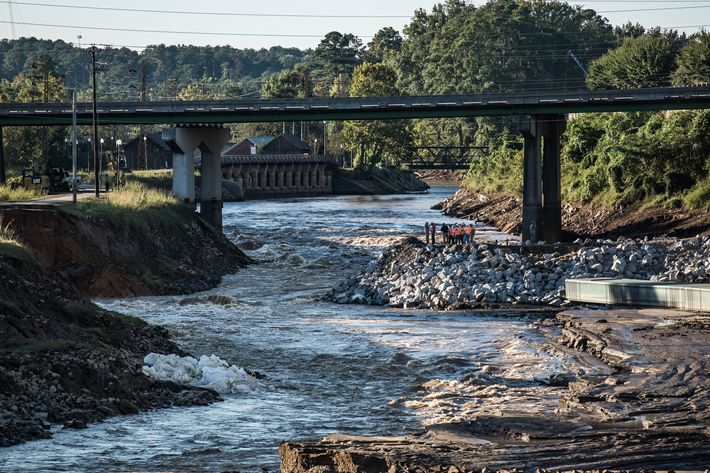 Governor Haley shot down questions about whether the state skirted on infrastructure investment, leaving the dams — and the communities alongside them — vulnerable. Haley said the dams breached or under watch account for a small number of the more than 2,400 dams the state regulates, and that "analysis could be done" after the emergency conditions ended. Yet, according to the Los Angeles Times, South Carolina checked off only 63 percent of inspections for the state's "180 high-risk dams" in 2014, and CBS News reports that, in 2013, the state spent only $260,000 on dam inspections. North Carolina — where no dams were breached, though it saw 2 of the 19 storm-related deaths — spent $2 million on inspections.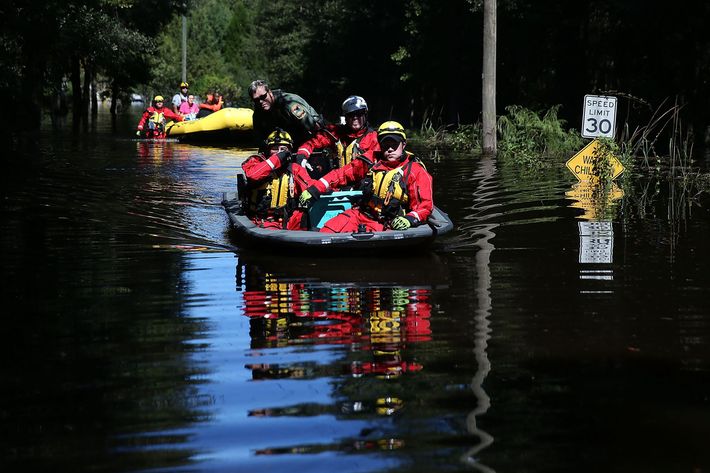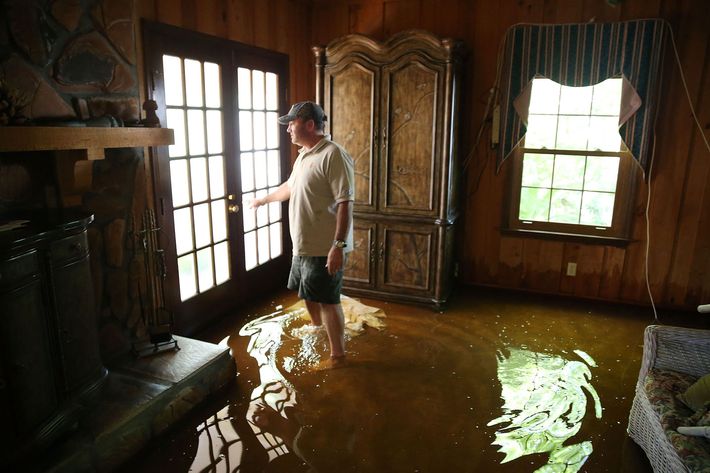 Estimates of the damage top $1 billion right now, says Senator Lindsey Graham, who is pushing for more funding to help his state recover from the devastating floods.