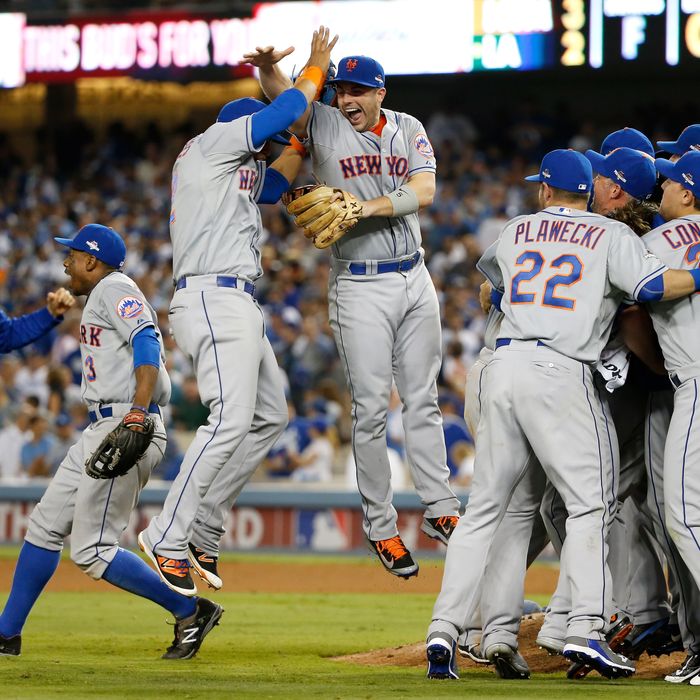 The Mets celebrate their Game Five win in the NLDS.
Photo: Sean M. Haffey/2015 Getty Images
Game 5 of the NLDS could have been Daniel Murphy's final one as a Met. Drafted in 2006, Murphy is set to become a free agent at the end of the season, and there's no guarantee the Mets — known for trying to save a buck when they can — will keep him around. But thanks in large part to a huge night from Murphy, the Mets' dream season will continue on to the NLCS. With a 3-2 win over the Dodgers on Thursday night, the Mets advanced to play the Cubs for the right to represent the National League in the World Series. Let that sink in for a moment.
Murphy figured into all three Mets runs in Game 5. In the first inning, he doubled in Curtis Granderson to give the Mets an early 1-0 lead. Then in the fourth, with the Mets down 2-1, he singled and caught the Dodgers napping when he advanced from first to third on a Lucas Duda walk by taking advantage of the Dodgers' defensive shift. The heads-up base-running paid off, as he'd score on a Travis d'Arnaud sacrifice fly to tie the game at two.
And two innings later came the big blow: a solo homer off Zack Greinke that put the Mets ahead for good.
Jacob deGrom, the hero of Game 1, wasn't as sharp on Thursday night, allowing six hits and three walks over six innings of work. His biggest hiccup came in the second, when he allowed four straight hits, resulting in two runs and a 2-1 Dodgers lead. He got into trouble on multiple occasions after that, but used his off-speed stuff to work out of trouble. How dangerously did deGrom live in this game? He threw 105 pitches, and 57 of them came with runners in scoring position. The Dodgers went 2-for-13 with runners in scoring position against deGrom, include 0-for-their-last-11.
You'll hear the word "gutsy" used to describe deGrom's performance in Game 5, which makes sense, since that's how we've come to describe players who battle on when they're not at the best. But the real guts on Thursday night belonged to manager Terry Collins, who stuck with deGrom through all those scary moments, and was rewarded for it. Because make no mistake: If he left deGrom in too long — which is to say, if deGrom didn't get out of one of those jams — Collins would have been killed in the tabloids and on sports-talk radio in the coming days.
Collins wound up pulling all the right strings with his pitching staff to survive the winner-take-all Game 5. DeGrom got through six innings, Game 2 starter Noah Syndergaard (who'd gotten up in the bullpen more than once in case deGrom had to be pulled) eventually came in for a scoreless seventh, and Jeurys Familia got the final six outs, one of which was made by Chase Utley, who appeared for the first time since breaking Ruben Tejada's leg with a vicious slide in Game 2. (Utley's fly out came on a Familia pitch that he probably should have crushed. The baseball gods owed the Mets that one.)
After the game, following the initial burst of celebration, manager Terry Collins found some Mets supporters in the front row. Most fans won't get the chance to show their appreciation to Collins for taking the 2015 Mets on this unexpected run into October, so let this one who gave him a smooch stand in for all those who can't:
The Mets get just one day off now before facing the Cubs in the NLCS. Game 1 is set for Saturday night at Citi Field.