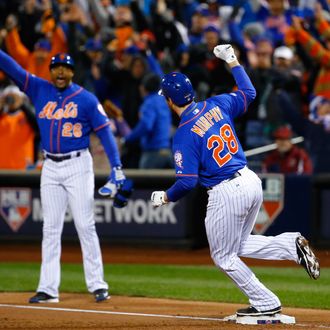 Daniel Murphy.
Photo: Al Bello/2015 Getty Images
Here's how hot Daniel Murphy is right now: In the third inning of Game 2 of the NLCS, Cubs pitcher Jake Arrieta walked the Mets' second baseman to get to Yoenis Cespedes, who hit 17 home runs in 57 games with the Mets this year and helped turn their season around when he arrived in New York at the trade deadline. But earlier in the game, Murphy had hit his fifth home run of the postseason (tying Mike Piazza's single-season club record in just seven games), and with a base open, the Cubs preferred to take their chances with Cespedes. The Mets would go on to win the game 4-1, and they've found a winning formula that has them two wins from their first World Series appearance in 15 years: an offense led by the red-hot Murphy, and excellent starting pitching.
The Mets did most of their damage early on Sunday night, taking a 3-0 lead three batters into the bottom of the first. Curtis Granderson led off the inning with a single, and David Wright followed with an RBI double. Then Murphy, who homered three times in the NLDS and again in Game 1 against the Cubs, took Cy Young candidate Jake Arrieta deep, much to the delight of first-base coach Tom Goodwin:
Murphy is set to become a free agent after this season — the Mets reportedly don't plan to bring him back — leading to many variations of the same joke on Twitter:
Meanwhile, a day after Matt Harvey's excellent start in Game 1, Noah Syndergaard threw five and two-thirds innings of three-hit ball, striking out nine and allowing just one earned run. (That run came on the final pitch he threw, a double to Kris Bryant that made the score 4-1.) The Cubs, who struggled this year against power pitching, have just three runs through the first two games of the series.
Just about everything is clicking for the Mets right now. In the second inning, shortly after New York jumped out to the early lead, Chris Coghlan drove a ball to deep right field. But thanks to Curtis Granderson's glove, it was just a long, loud out.
Once again, the Mets' bullpen did its job: Four pitchers combined to throw three and a third innings of shutout ball, with Jeurys Familia picking up his fourth save of the postseason.
And so the Mets held serve at home and will head to Chicago with a 2-0 series lead. Best of all, they still haven't used Jacob deGrom, who won two games in the NLDS and led the team in ERA and strikeouts during the regular season. He'll start Game 3, which is set for Tuesday night at Wrigley Field.