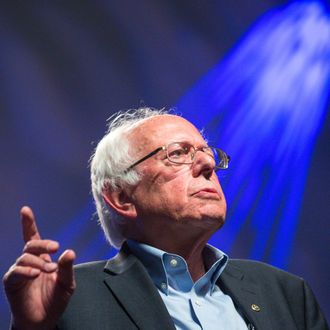 Photo: Charlie Leight/Getty Images
On Tuesday night, The Wall Street Journal reported that Mayor Bill de Blasio met with Senator Bernie Sanders in secret on September 18, when the Vermont senator was in New York for an appearance on The Late Show With Stephen Colbert. According to de Blasio, the meeting was Sanders's idea. "Of course I'm going to respond to that request," the mayor told CBS 880 radio.
The meeting was kept off of de Blasio's public schedule.
The former Vermont mayor told Politico that they were basically just having a little progressive shop talk: "As a former mayor myself, I enjoyed meeting one of the leading progressives in America and talking about what he's doing in the city. I'm very impressed by what he's done, particularly on early childhood education."
No one involved would comment on whether an endorsement of Sanders was discussed. "I was not inside the meeting," demurred a Sanders spokesperson, when pressed by Politico.
De Blasio managed Hillary Clinton's Senate campaign in 2000, and she conspicuously sat onstage when he was sworn in as mayor in 2014. But, at least so far, he has refused to endorse her presidential bid. De Blasio skipped Clinton's June campaign kickoff on Roosevelt Island, noting that he's "waiting to hear … her larger vision to addressing income inequality."
This same issue will be the centerpiece for de Blasio's forthcoming Iowa forum. The Sanders spokesperson said that his boss "hopes to attend," schedule permitting.