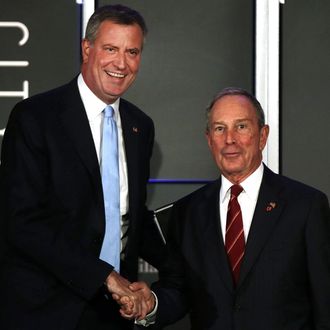 Prepare to see more of this.
Photo: Spencer Platt/Getty Images
During his 2013 campaign for New York's highest office, Bill de Blasio positioned himself as the modest, middle-class anti-Bloomberg, promising to turn the corner on an administration he criticized as overly solicitous of Wall Street, real-estate developers, rich Manhattanites, and the NYPD. In return, Bloomberg famously accused de Blasio of running a "racist" campaign and waging "class warfare."
In his first year as mayor, de Blasio took continual potshots at the previous administration's approach to everything from affordable housing and homelessness to charter schools and park funding.
But lately, the New York Times reports, de Blasio has changed his tune on the billionaire CEO-cum-politician who preceded him. In just the last month, the Times points out, the mayor has been caught praising Bloomberg's decision to extend 7-train service to Manhattan's far west side, his victory in taking control of the city's public schools, and his crusade against the NRA.
Don't think for a minute that this sudden shift is anything other than strategic. De Blasio's frequent public spats with Governor Andrew Cuomo have cost him a good deal of political capital for the sake of a fight he's not likely to win, and his inner circle clearly sees his enmity with Bloomberg as an additional liability he can't afford.
After all, Bloomberg is popular among communities that have issues with de Blasio — such as Wall Street, real-estate developers, rich Manhattanites, and the NYPD — and hizzoner has found it difficult to push forward his agenda with only his progressive base backing him.
City progressives need not worry about de Blasio turning his back on traditional allies, though. David Dinkins, a Democrat who served as New York's first black mayor from 1990–1993, became one of a few former mayors with their names on New York City landmarks on Thursday when the Manhattan Municipal Building was rechristened after him.
According to the Times, some city Republicans objected, saying Rudy Giuliani was more deserving of the honor, but as it so happens, Bloomberg had offered Giuliani just such an opportunity before he left office and was rebuffed.
"I have a teeny bit of a superstition about that," Giuliani reportedly said. "The only times you ever hear the good things about yourself are when someone gives a eulogy."